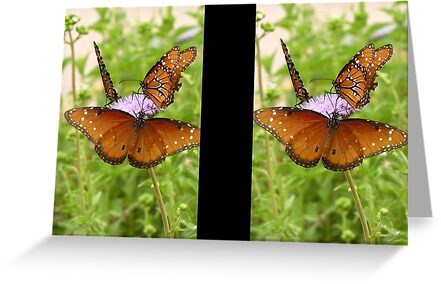 Cover for the Bees & Butterflies Calendar

TOP TEN WINNER (6th Place) in the #3 of a kind – Become host for a day!
232 views as of 9-04-10
TOP TEN WINNER (7th Place) in the The Art Of Making Love Challenge
---
Tucson, Arizona
Canon Powershot sx10is
Queen
A smaller and duller desert counterpart of the Monarch is the queen, which is also poisonous. It does not make the heroic journey that the Monarch does, nor does it roost communally through winter in the thousands. Instead, the Queen graces desert gardens and foothills with its presence most of the year, often in large numbers. Small numbers of male queens do roost on certain plants during the evenings, converting chemicals from plants for use in mating.
In midsummer, the queen is one of the first to rouse in the early morning, sometimes being on the wing by 6a.m. The chysalids are gorgeous, a translucent, pale green with gold spots.
10-25-10