1 Greeting Card Sold! Thank you for your support!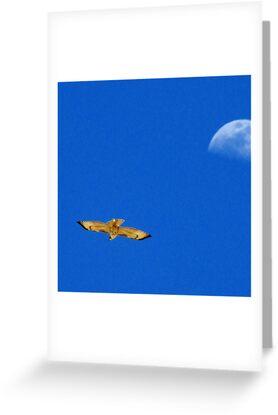 Just happened to pull over at the right time at the right place. Nothing but a lucky shot, but I thought it was cool enough to share with my RB friends. I hope you like it.
Taken in Marana, Az with Canon sx10is
Red-tailed hawk is the most variable and widespread north American raptor. It is equally at home in mountains, deserts,prairies, and farmlands. A year round resident in most of the United States, the RT is the hawk most likey to be seen along highways. Utility poles and fence posts have become the accustomed perch of these raptors.
Coming in a huge variety of colors and morphs. Hunting mostly rodents from perches or in the air.
While searching for prey, these hawks will hover in place, sometimes kiting, or hanging motionless in the wind, as it scours the land.
Red-tailed hawks tend to keep the same territories their whole lives. These territories can be as large as 9.6 square miles (25 square kilometers). The birds defend their area with aerial displays of steep dives and climbs, the males and females gliding together. Red-tails pair up for life and their aerial courtships are much like their territorial displays.
VOICE a distinctive call, a harsh, descending keeeeeeer
Fun fact: Most of the screeches you hear in bird movies belong to the red-tail hawk.
4-27-10