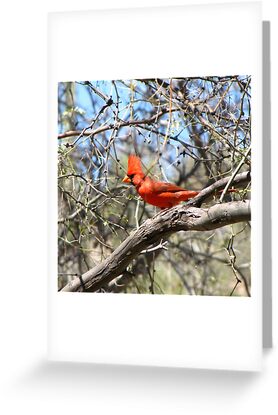 Taken in Tucson, Arizona while on a stroll through Arizona-Sonoran Desert Museum
Northern Cardinal (colloquially "red bird")is named for the males color, said to resemble the robes of Roman Catholic cardinals. They live in thickets, woodlands, suburbs, and city parks and locally in southwestern deserts and thorn scrub.
Males are highly territorial, sometimes even attacking their own image in windows and car mirrors.
Forages on the ground or low shrubs for a wide variety of insects, but mainly feeds on seeds, leaf buds, berries, and fruit. Readily visits backyard feeders and prefers sunflower seeds.
VOICE includes cue-cue, a _cheer-cheer-cheer-, purty-purty-purty. Common call is a sharp chip
---