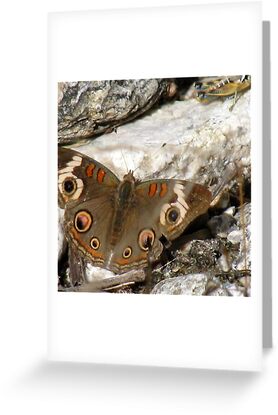 Sitting on the stones with the back end of a Horse Lubber Grasshopper.
The delicate, intricate array of red bars and purple-hued eye spots on the upper side of reh common buckeye's wings has not yet been put into fabric, but perhaps it should be. Its large, realistic eye spots may be intended to startle predators when this species opens its wings. The underside of its wings are tan but infused with reddish overtones during cooler weather.
A number of species that breed throughout the year become rosier during the winter, perhaps in response to shorter days. Oddly, tan individuals tend to be more mobile than reddish ones. Common buckeye males are highly territorial, even pugnacious, in canyons and on dirt roads. Adults take nectar from variety of flowers such as monkeyflower and seep willow.
---