Officially only 3 weeks left now until our new bubbas due date!!!
Excited! Scared! :)
These last few months have been quite hard.. been ordered to bedrest and couch rest and havnt been able to do much at all really.. one of the things of being so tiny and having a huge baby belly.. plus a slew of other problems and hiccups along the way that have made this pregnancy so far very trying…
But will all be worth it in the end, and the good news is that even though I am spent and have this pain and sickness which i wont go into detail about.. baby boy is apparantly healthy as.. so he's taking all my goodness and growing strong getting ready to be born in a mere few weeks.. So i am not strssing too much…
Oh time is flashing by.. My little girl wil be 4 in another two months, she starts kindergarten next year.. Life is taking over :)
So, apologies for my not being here, (again!) and my lack of replies and comments and general presence, I have managed to have a few bouts here and there of coherent wellness, and have been using that time (if my little girl is asleep and its nighttime) to draw… I signed up for the sketchbook project 2011 a little while back.. perhaps I have taken on too much with baby being born in a few weeks and all, but I couldnt resist, and had been spent mentally of inspiration and ideas of creativity and it seemed the perfect project to get that part of me going again…
but anyway i'll get to more of that later..
Huge Thankyous to all my mystery buyers.. and also to those of you that chose to leave your names, I appreciate each and every sale and have been in awe and gratitude that my sales have stayed consistant and have been improving also… without my even being able to be here actively.. It means so much truly!
And I hope you all enjoy my art for years to come!
It keeps me going in many ways!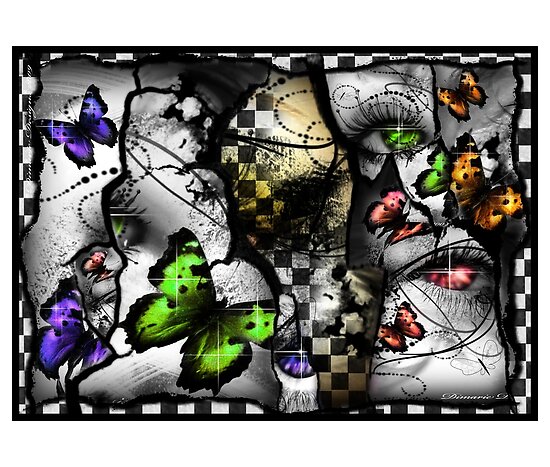 (one of my sales – fragmented reasons of air)
Oh and thanx for the features too!
After baby boy is born I'm sure I'll have a collection of new pics to show off! :)
And yea, I've managed to get a few pages done in the sketchbook project sketchbook so i'll add those soon too…
peace n luv trippaz!
-dee