A few of the reasons why...
…I havnt been here much lately.
I didnt realise how many months had passed since I was last "active" on here in bubbleland, but it has been a long time now.
Reasons… Creative Slump… Time Loss… Missions and of course, the Big News!
Creative Slump, we've all been there, mine has been on n off for the past year it seems, mainly off… There were times where I had the stamina and want and ideas and managed to do pieces here n there or take photos… and it all ended up sitting there on my files, collecting cyber dust.
So, bear with me as I have quite a few pieces to add over the next hours/days..
Time Loss, Dont really need to point out that no matter how many hours are in a day there always never seems to be enough to get everything done :) oh well, thats life, but it does make one tired…
Oooh speaking of tired…. but wait, missions…
Missions, Mission number one was to not go insane due to the very many people that were coming thru here (my house) every week (plus more) for "open houses" etc, as the owner of our rental put it up for sale last year (for waay too much) and so we spent the next however many months dealing with no privacy as carloads of people came thru each week. Oh and on top of that, people seem to think that if there is a For Sale sign out the front of the house that it gives them the right to walk around and peep in the windows and look over the fence and have the audacity to give me attitude when I look at them like WTF.. I mean, I have my 3 year old daughter running around the yard playing i dont want just anybody peering into our yard… Ooh it made me irate.. lucky none of them were game enough to hang around to hear what i had to say…
But, long story short (well not too short lol) eventually the house was sold and the new owners are quite happy to keep us on as tenants which is awesome, especially as one of the other main stresses was trying to find another rental property, as the supply and demand sooo does not meet up… and then there's the discrimination that I get due to being an artist who has young children… yep, it happens…
Anyway.. The Big News…
"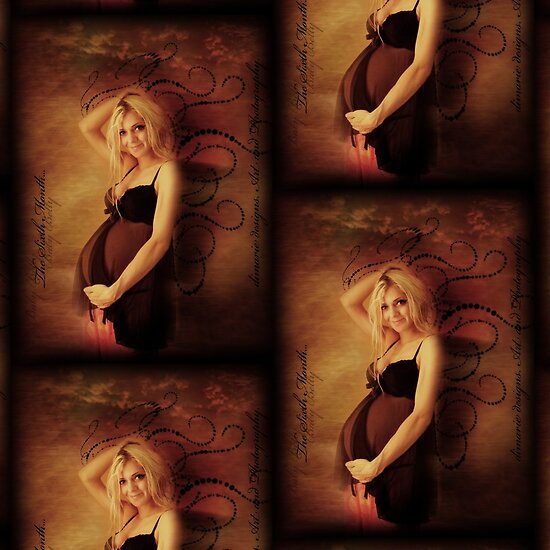 ":
Baby Boy due around Halloween :)
And He's been givin mumma a hard time already :)
I've been so tired and run off my feet.. And there are a few other little things this pregnancy that make it alot more difficult than my last one.. but its all worth it and we're all heaps excited to meet our little boy!
My daughter Zafyre especially is stoked to have a little brother on the way, she comes up to me almost daily and kisses and hugs my belly and says "hello baby brother" .. Its so adorable :)
So yep, on that note, I'll leave ya to it, and I hopefully will get around to replying to the very many comments etc that i have.. as its all appreciated so much…
Oh and the Sales.. wow, I've been making consistant sales the whole time, its such an awesome feeling to know that there are those that appreciate and like my artwork so that they want to spend their moolah on it! People from the other side of the world also.. Its just wow.. Love it! :) :) :) its a nice feeling :)
So thankyou to all those who have supported my artwork by buying prints, tees, cards and shoes too (I sold a pair of my keds shoe designs over at zazzle, where i also sell mugs and cups and mousepads etc etc.. all sorts) (okay, I'll indulge in some shameless self promotion… here's the link, go check it out – My zazzle store* and also My other zazzle store* )
So, also, I'll do the rounds and check out all the other new art here, it feels like its been sooo long since I've had the chance…