Friends,
Today is Easter……..so I thought it was a good time to post this journal.
For those that celebrate Easter, it can represent various things for different people. For me, it is symbolic of starting life again. A chance for new life, new beginnings, a new breath of air.
I have not been very active here on RedBubble for the past year……I have been starting my life again too……more in a symbolic sense, than a physical one. I have been working to rid myself of all that has been toxic in my life…..and instead, I have been inviting in that which is nourishing and enriching.
I have been very focused on my work in the past year, working day and night to build my business. I have now left teaching and I am working full time in photography & design…….with lots and lots of projects on the go. I have also dedicated a lot of time to my family and some family issues that came about.
Over Christmas, we picked up our work and transferred to the beach for a while…….just the breath of fresh air that I needed to take everything that I had been working on to the next level……..which I did on our return to Melbourne. We then spent some time in Queensland, in the north of Australia……which was ovewhelming and motivating.
And now, everything is moving in a forwards direction………just as is should be. And as always, I am happy.
I have continued checking in on all of my friends here at RB and I am so happy to see you all continuing to produce outstanding and inspiring work. I am also overwhelmed by the warm welcome back that I have received from everyone, and for the positive responses to the new pieces that I have posted.
And to keep on the theme of new beginnings, one of my homepages was chosen today by RedBubble, in celebration of Easter.
Starting Life Again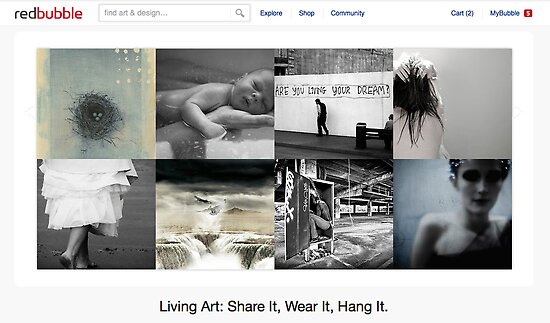 The layout says it all. It is about the chance to start it all again……and how sometimes in order to do that, we need to peel away the layers and go through the pain…….and only then can we be new again. And only then can we appreciate the new beginnings that we have been given……..
Congratulations to all of the artists who were featured as part of this homepage. Thank you for inspiring me……
And now……….what is next for me in the coming months? Lots of design projects and photo shoots…. preparing competition entries for the AIPP awards…….trying to find a work/life balance (being a cool & trendy career mum can be a little tricky sometimes)…..lots of kinder activities (my little boy started kinder this year)……moving to a new apartment……..getting ready to go home to Italy in June…….and so much more……….
But I will be floating in and out of Bubble World……..so keep in touch………your words always mean so much to me.
Love and warm hugs,
Luisa