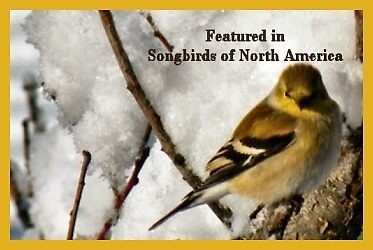 Featured in Songbirds of North America – June 5, 2011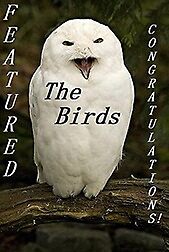 Featured in The Birds – June 3, 2011

"Featured in Live and Let Live – May 28, 2011*

May 27, 2011
Another beautiful little bird captured in the trees in my yard.
Description
Large, robust finch.
Tail relatively short.
Heavy conical bill pale greenish yellow.
Large white patch in wing obvious in flight.
Male Description
Brownish black head with black crown. Yellow forehead and eyestripe (supercillium). Wing, tail, and upper tail coverts black. Dark brown nape fading to yellow on back. Secondaries and coverts white, creating large square white patch on back of wing in flight. Dark brownish throat fades to brownish-yellow underparts, becoming brightest under tail. Legs pink.
Female Description
Head and upperparts mostly grayish brown. Weak dark malar stripe. Yellowish wash on sides of neck. Uppertail coverts black with white spotting. Wings and tail black with white and gray patches in wing. Throat and underparts pale grayish brown. White under tail.
Immature Description
Juveniles similar to female.
Canon EOS Rebel XTi; Sigma 150-500mm lens @500mm
Ste. Rita, Manitoba, Canada