166 views as at December 31, 2011

May 28, 2011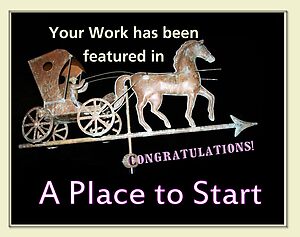 Featured in A Place to Start – May 28, 2011
If I sit real still on a deck chair the birds seem to get used to seeing me there and go about their normal activities. I love watching the birds, but not without my trusty equipment in hand. This female was sitting on the plant hanger closer to me than the male in the tree.
The Female Rose-Breasted Grossbeaks (Pheucticus ludovicianus) are a more plain brown with two white wing bars and a prominent white eye stripe.
Orange yellow wing linings and heavy streaking on white breast. Often mistaken for a large sparrow.
Both have the familiar heavy conical bill common to Grosbeaks.
Mainly the courtship consist of the male singing during flight in order to attract a female. Sometimes a courtship dance is offered by the male for the female.
This species arrives from its wintering areas from as far as Ecuador and Venezuela during the last half of May, appearing in any urban or rural treed area. Most go on to breed further north. However, some breed locally in Kananaskis and Bow Valley Prov. Park and have been recorded at Bottrell. They are present during June along the south slope of the Weaselhead Natural Area, indicating that they are breeding locally. Most have departed the province by late August.
During the nesting season, insects gleaned from tree-top vegetation is the mainstay of their diet. At other times, they take flowers, seeds, fruit and buds.
The nest is a loose collection of twigs and coarse plant material, lined with finer twigs, rootlets and hair, sited in a fork of usually a Trembling Aspen, 2 to 10 m high. The four bluish-green eggs are incubated by both sexes, with the male occasionally singing from the nest. Both parents actively feed the young which are ready to leave the nest after only nine days of age. Often two broods are reared. When that happens, the male tends to the young while the female builds a new nest.
(http://www.talkaboutwildlife.ca)
(http://www.wild-bird-watching.com)
Canon EOS Rebel XTi; Sigma 150-500mm lens @500mm
Ste. Rita, Manitoba, Canada