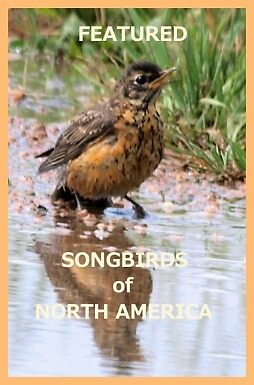 July 24/12
Featured in Top Shelf Wildlife and Nature Art – September 21, 2009
The Bohemian Waxwing is one of three species in a family that develop red wax-like droplets on the tips of their secondary wing feathers, the only birds in the world that are so ornamented. The older, more experienced males have the greatest amount and apparently are preferred as mates by those females lucky enough to team up with one. The cup nest is usually placed in an isolated conifer. The female incubates the four to six eggs for 13-14 days, being fed by the male during that time. The young, fed regurgitated berries and insects, leave the nest at 15-17 days of age.
The preferred nest is usually high in a pine tree but feeding opportunities determine the location ultimately chosen. Each bird or pair may have more than one nest in the same general area. The nests have an outer diameter of 15cm to 18cm and are lined with fine grass, moss, and down. On average, 4 to 6 eggs are laid, the egg shells having a pale bluish color with a heavy sprinkling of blackish spots and some dark, irregular lines. Incubation is around 14 days and the young leave the nest about 13 to 15 days after hatching.
Like other waxwings, its diet consists primarily of berries supplemented by insects, especially during the breeding season.
Photographed at Muncho Lake Provincial Park, British Columbia, Canada
Canon EOS 50D
1/2048 sec.
500mm
F6.3
ISO 1000