SOLD to unknown buyer – April 28/12 – many many thanks for this purchase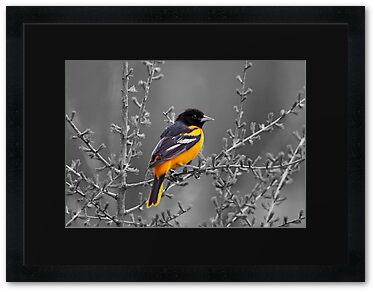 March 27, 2012

September 28, 2011

September 5, 2011

Featured in Happy, Snappy Selective Coloring – June 12, 2011

Featured in We Sell Art Group – January 28, 2011

Featured in Live and Let Live – April 27, 2010

Featured in Canon EOS50d – December 20, 2009


WON A Challenge – Around the World – December 20, 2009
Top 10 Placement in a Challenge in A Place To Call Home – August 2, 2009
Top 10 placement in a Challenge in Weekly Theme Challenges – June 16, 2009
Featured in Weekly Theme Challenges – June 14, 2009
Featured in Canon vs Nikon – June 14, 2009
The Baltimore Oriole, Icterus galbula, is a small icterid blackbird which is on average 18 cm long and weighs 34 g. This bird received its name from the fact that the male's colors resemble those on the coat-of-arms of Lord Baltimore. At one time, this species and the Bullock's Oriole, Icterus bullockii, were considered to be a single species, the Northern Oriole. It is also the state bird of Maryland.
Adults have a pointed bill and white bars on the wings. The adult male is orange on the underparts, shoulder patch and rump. All of the rest of the male is black. The adult female is yellow-brown on the upper parts with darker wings, and dull orange on the breast and belly.
The male sings a loud flutey whistle that often gives away the bird's location before any sighting can be made. Click here to listen to the whistle of a Baltimore Oriole.
The breeding habitats of these birds are the edges of deciduous and mixed woods across eastern North America. The range of this bird overlaps with that of the similar Bullock's Oriole in the midwest, and the two species are sometimes considered to be conspecific under the name Northern Oriole because they form fertile hybrids.
These birds migrate in flocks to southern Mexico, Central America and northern South America. Some birds may remain near feeders in winter.
The Baltimore Oriole's nest is a tightly woven pouch located on the end of a branch, hanging down on the underside.
Baltimore Orioles forage in trees and shrubs, also making short flights to catch insects. They mainly eat insects, berries and nectar, and are often seen sipping at hummingbird feeders. Oriole feeders contain essentially the same food as hummingbird feeders, but are designed for orioles, and are orange instead of red and have larger perches. Baltimore Orioles are also fond of halved oranges and grape jelly
Taken in my yard, Ste. Rita, Manitoba, Canada – May 2009

Canon 50D; 150-500mm lens
Shutter speed 1/1579
Lens aperture F/6.3
Focal length 500mm
ISO 1600