By Darren Stones
www.darrenstones.com.au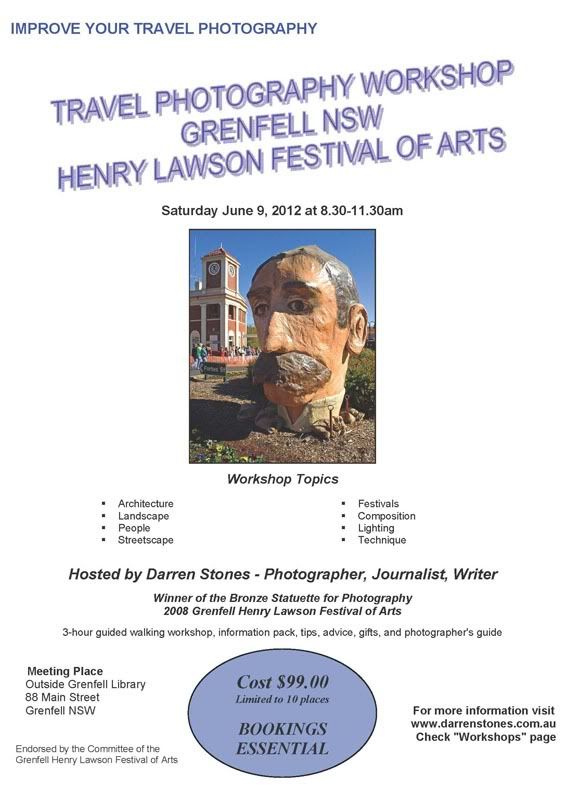 Grenfell is not too far away − only 625 kilometres for me. Crazy, some people thought I was crazy to enter a photography competition in a place that seemed to have no attractions worthy of visiting. Bah … it has more than enough going for it, and I know how the spirit of Grenfell now circulates through my veins.

A nice building
I've eaten at the Albion Hotel a few times. You know the place; it's situated in Main Street. Steak, chips and salad is my usual fare when travelling, and all washed down with a light ale or two. So what brings me to Grenfell besides a photo comp? The people, the people, the people. Yeah, I had to say that three times. It's true.
Over the years I've developed connections with people from Grenfell. I dunno why it's happened so well, but it has, and it inspires me to greater heights. You might wonder how that happens, so, if you really want to know, you'll hang about till I've finished.

A nice canola field
See, in 2008 I won a statuette for photography at the Henry Lawson Festival. Bloody thrilled I was to be told about it by local nice guy Tim Wood. You might know him … he talks like a country bloke … slow. Friendly though, right through to the core. He called me on the blower on a May evening back in 2008 and told me the good news. He sounded excited, but not half as excited as me.

Good looking bloke
Let me tell you something. Winning a statuette means something. It means the judges liked what you produced. In my case it was a photo. Good photo, too, but not one of my favourites. But hey, who am I to question the judges … they obviously had good taste.
Oh yeah, back to Grenfell. Friendly place, and has its own loaded dog. Funny that. What is a loaded dog? Sort of makes me think if there's a dog with lots of cash in the town. Wouldn't surprise me.

Drink and eat stuff at the Loaded Dog Cafe

Maybe this is the real loaded dog?
Companys Dam. Which company owns it? Anyone know, because I'm sure stumped on that one.
And what is it with the funny business of putting Henry Lawson's big head on a roundabout each year? Where's Henry's head hidden away when it's not the festival weekend? In a tin shed somewhere? I've been wondering about that for four years. A mystery yet to be solved.

Henry without a body
Guinea pig races. Bloody hell, who dreamt up that idea? I've seen those furry critters scurrying along on some weird looking track. Did you know the commentators out there amongst the gum trees are a bit crazy? They say stuff that gets me laughing though. I must be on their wavelength and that worries me. Good bit of banter out there. Cheeky, oh, very cheeky. If you've never been out there, go. Take someone with you though, just in case those crazy commentators do something crazier than normal. Last I heard they'd eaten four guinea pigs between them. Rumours … they sure get around.
And while I'm on the topic of guinea pig races, that good lookin' local bird Carly Brown got bitten by one of the little buggers last year. I was there and saw it happen. Blood was pissing out of her finger. Not sure if the guinea pig survived though. Poor thing − Carly that is.

Carly (in purple jumper) before getting love bite from guinea pig
Woodchopping. Well, is there a better venue for it than just outside the Railway Hotel? Last year I watched "Mad Dog" doing his thing with an axe. Fair dinkum, "Mad Dog" was wielding his axe like a stick of fairy floss. "Mad Dog" was not mad at all, and it showed. He looked the part in his blue singlet and shaved head, but boy oh boy, he was there making up the numbers. He seemed short of a gallop, and each heat I saw him in, he was last to finish. Even the old blokes beat him. If "Mad Dog" is back this year, I sure as hell hope he's taken his angry pills. Fire up "Mad Dog" and chop the living daylights out of those logs!

This is NOT "Mad Dog" – this bloke knows how to chop
Anyway, I like the festival. You probably like it, too. Understandable given it celebrates the arts and draws people from afar. If we happen to cross paths, that will be neat. I'll most likely be the one carrying a black camera in my right hand. I like photographing the festival because it's history in the making. Who knows, I might take a photo of you.
Info thingy
Of course you want to know more about the festival now, so here's the link:
http://grenfell.org.au/henrylawsonfestival/