Name: Darren Stones
Occupation: Photographer – Journalist – Writer – Trainer – Facilitator – Mentor
Location: Melbourne, Victoria, Australia
Mobile: 0419 200 469
Email: darrengstones@gmail.com
Website: www.darrenstones.com.au
Flickr: Darren Stones Visual Communications
Facebook: Darren Stones Visual Communications
Twitter: Darren Stones @dgstones
LinkedIn: Darren Stones
---
Latest News
Most Successful Exhibitor Award at Harden-Murrumburrah
Awarded the Most Successful Exhibitor Award at the 2013 Harden-Murrumburrah Photography Competition and Exhibition. Also achieved 1st Place in the Landscape Colour section for Gibsons Beach, 2nd Place in the Open Colour section for Kite Surfing at Merimbula, and 2nd Place in the Birds and Animals section for White-faced Heron. Details here
Merit award achieved at national level for Gibsons Beach
The results of the 2013 Australian Digital Photography Awards have been announced and I'm pleased to have achieved a Merit Award in the Photo Travel category for my photograph titled Gibsons Beach. Details here
Point Lonsdale to feature in new Museum Victoria exhibition
Museum Victoria's curatorial team have chosen my Point Lonsdale photograph to use in their multimedia projection of the First Peoples exhibition in the Bunjilaka Aboriginal Culture Centre. Details here
---
Kevin Phelan Landscape Photography Award 2012
My landscape photograph Point Lonsdale was awarded the Kevin Phelan Landscape Award for 2012. The image was personally selected by Kevin from entries entered into the category at the Essendon Camera Club. Kevin and I have worked together in presenting separate Landscape Photography Master Classes at the Essendon Camera Club in February 2013.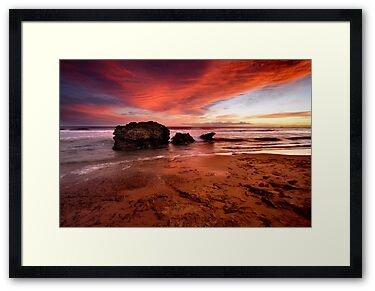 Point Lonsdale by Darren Stones
---
Best Digital Projected Image 2012
Essendon Camera Club
Thrilled to have been awarded the Best Digital Projected Image for 2012 at the Essendon Camera Club where I'm a member. I won the award for my action photograph Kite Surfing at Merimbula.
---
Darren Stones Visual Communications
Improving Your Image
My purpose is to provide photography, journalism, writing, education, communication services and products to clients in the photographic, media, publishing, finance, local government, business, community, health, education and recreation sectors.
Memberships:
Media, Entertainment and Arts Alliance MEAA
Australian Photographic Society
Essendon Camera Club
---
About Darren Stones:
A multi award-winning Australian photographer, journalist and writer who specialises in Australian themes. Portfolio of photography and writing features Australian locations, towns, regions, events, festivals, organisations, groups, causes and people.
Supply high quality digital photographs for products and publishing
Supply quality photographic merchandise
Provide photography tuition that inspires people to create better photographs
Provide informative writing that is engaging and entertaining
Photographic Products and Services
License use of digital photographs
Sell framed prints, canvas prints, mounted prints, matted prints, photographic prints
Sell calendars, posters, greeting cards and postcards
Devise and facilitate photography workshops
Offer a photography mentoring service
Write photography instruction articles
Write travel photojournalism and experience articles
Product and Marketing Services For Businesses
Develop and supply framed prints, canvas prints, matted prints, mounted prints, photographic prints, posters, calendars, greeting cards, postcards
Create media releases, media kits, promotion articles