Second Photograph taken at Elk Lake.
I like this one better, the sun actually can be seen through the fog and the dimmer, warmer early morning light adds a little more mystery of what the day is going to bring.
The morning sun breaks through the fog hanging over Elk Lake in Central Oregon. Boats quietly float in the early morning at the Moorage area on Elk Lake. Elk Lake is about 30 miles from Bend Oregon. It is one of many Beautiful lakes in the High Cascades Mountains of Central Oregon. Near by are Sun River Resort and the Mt Bachelor Ski areas.
BEST VIEWED LARGER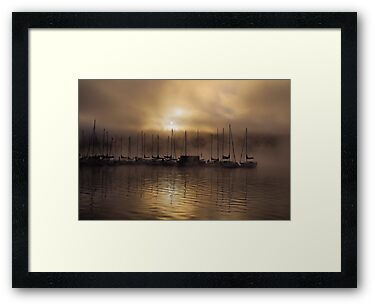 !
Featured in All Countries Wetlands, Ponds, Lakes and Rivers