This is what the nest building is all about, the moment he has been waiting for. A female Speke's weaver has arrived to inspect this male's efforts and he appears to be asking her for her opinion. Unfortunately, it seemed to get the thumbs down since literally one second after this shot was taken, I took took the shot below in which he seems to be departing for more building materials. Who knows, maybe the answer to his question was a qualified 'yes', depending on how the bathroom extension turned out!
For all the blurb about these fascinating little birds, see Speke's Weaver 1 or Speke's Weaver 2
Image taken at Timau, Central Kenya. Timau is a spit north of the equator, about 30 km north of Mt.Kenya and at an elevation of some 7330 feet.
Canon EOS 1DMkII with Canon 300mm f2.8L IS lens; ISO 400 f3.5 1/1600
Best viewed large
Uploaded 20 April 2010
Number of views on 14 May 2011: 246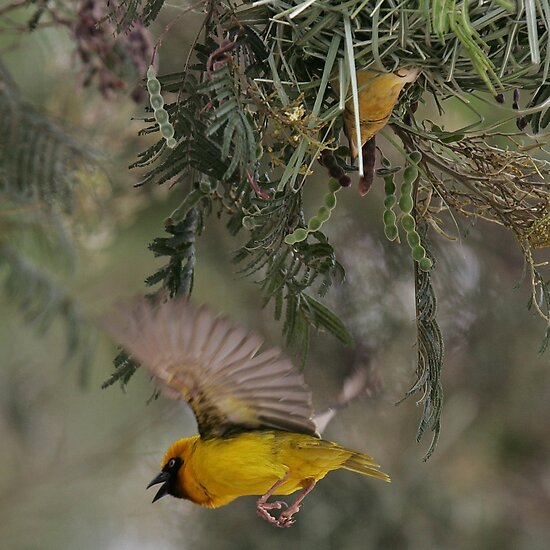 More Speke's Weaver shots