Canon EOS 400D, Sigma 18-200mm lens, 1/60th, f/6.3, 200mm, ISO 100
I was fortunate to receive a fantastic Christmas gift last year: a day at the Adelaide Zoo as a keeper. It's a great program, gives you real up-close-and-personal experience with a range of critters, and some hard work shovelling!
Just four of us, with a very experienced and personable keeper, Katrina, we let the hippos out for the day, after cleaning up after their very productive night; we fed the African hunting dogs (by chucking hunks of chook over the fence); we fed the meerkats and the otters (ditto, chook and fish respectively); we went into the enclosure with the very attractive New Guinea tree kangaroos, strange slow very pretty animals who strangely look like a cross between a kangaroo and a koala, and fed them carrots; we hand-fed the giraffes, after cleaning up their night-time quarters. They also are very productive animals!!!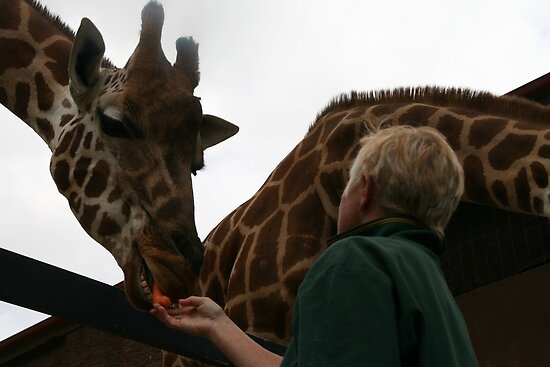 We spent some time with the pandas, but just out in the general public area, although they were very cooperative (the pandas, not the public), and posed prettily with bamboo.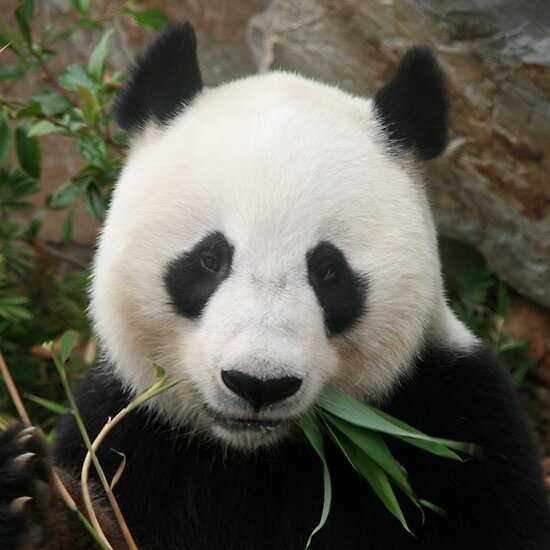 We had a tour of the vet clinic and watched a yellow-footed rock wallaby (a threatened species now) have a full body workover under anaesthetic.
The highlights:
A close encounter with lemurs: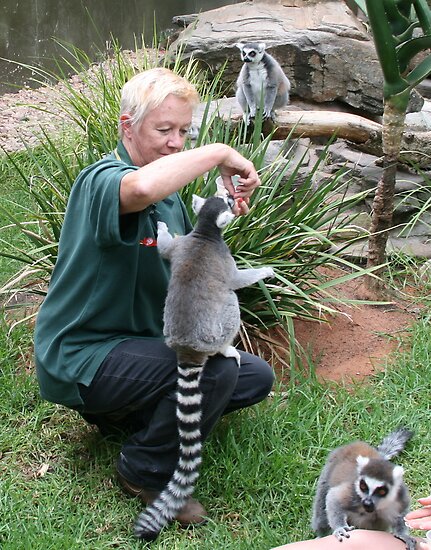 An even closer encounter with squirrel monkeys: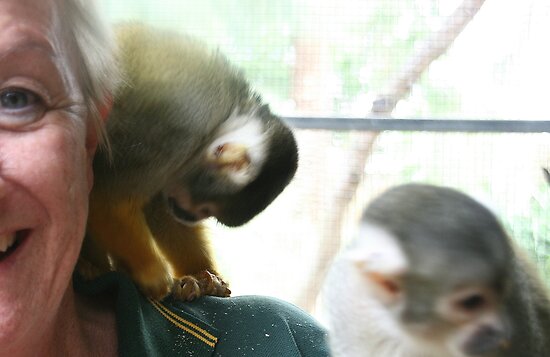 (and PS, that's not dandruff, it's the sawdust in which the mealworms were kept!!)
and a moment with the tiger: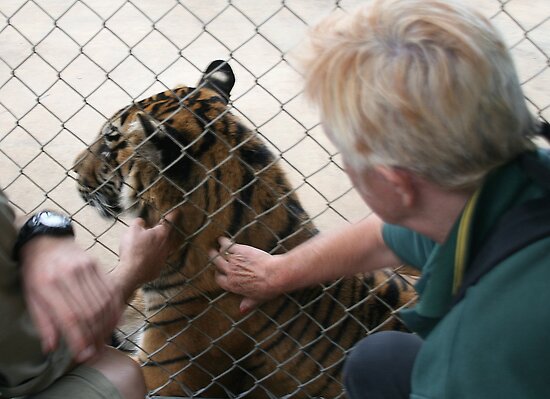 She was handreared, and the two female tigers alternate being on public show, so if you're lucky and she's kept in, you get to tickle her behind the ear. What a moment!!
425 views as at February 13 2014