Country Heaven…that for the majority of the die hard southerners in the USA would be Strait, Beer and a Smoke =D
This is a layered composition of two photos I took with a Canon EOS Rebel T2i in Greenville, SC; one of my husband enjoying his beer and smoke and another one I took of that George Strait neon sign….now me, I prefer wine…and I'd take Strait anytime LOL!
194 Views as ofApril 11, 2012 & 5 Features – Thank you all!
Featured in THE GROUP on March 26, 2012!


Featured in the STILL LIFE FINE ART AND FOOD PHOTOGRAPHY Group on March 22, 2012!


Featured in the ART OF GLASS Group on March 21, 2012!
Featured in the LIFE IN THE CITY, SUBURBS AND BUSH Group on March 6, 2012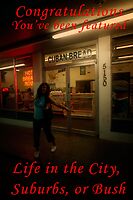 Featured in the ABSOLUTE CLARITY Group on February 28, 2012!