957 Views as of 22 July 2012, 6 Features and 2 Sales – Thank you all!
This is a shot of a Japanese Maple Leaf…it was the only one on this particular tree that was Red instead of Green…and thus grabbed all my attention and reminded me that being different and standing out from the crowd instead of following along and going with the flow can really be a good thing! =D
Enhanced in PSE to only show the one leaf in color.
Camera: Canon EOS Rebel T2i
Featured in the INSPIRED ART Group on April 8, 2012!


Featured in the DASH OF COLOR Group on October 26, 2011!


Featured in the ABSOLUTE CLARITY Group on October 16, 2011!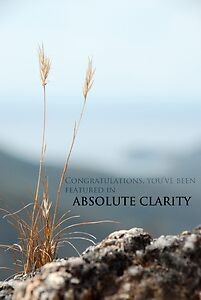 Featured in the SELECTIVE COLORING Group on 4/26/2011!


Featured in the SILKY TOUCH GROUP on June 10, 2011!
Featured in the HIGH QUALITY IMAGES Group on June 11, 2011!