This is a cover art compilation piece using portions of 5 photos I just finished for an up and coming rapper for his new release called "Depression" – the rap song tells a story of a guy talking to a bartender who seems to know far too much about the woe of the patrons and in the end he realizes he's too drunk to have noticed the guys name tag says: "Lucifer" =D
Model: Husband, Jimmy Honeycutt
Camera: Canon EOS Rebel T2i 300mm
Not my usual genre of work but was fun to be challenged!
300 Views as of 6/11/13
Top Ten Challenge Winner on 5/10/13!


Featured in the LIFE IN THE CITY, SUBURBS & BUSH Group on April 14, 2013!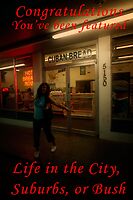 Featured in the Artistic Toast to Hot & Cold Drinks Group on April 12, 2013!