My little hopper was captured using a DSLR with a Canon 100mm macro lens and tripod. Photographed in Tasmania, Australia.
Viewed 6449 times Oct 2010
This image has been featured on the
Red Bubble home page March 2009
FEATURED IN THE FOLLOWING GROUPS:
The Best of Anything and Everything Oct 2010
All things in the Natural World Oct 2010
Lost For Words Sept 2010
SUPER MACRO Photography Sept 2010
Top Shelf Wildlife 2010
1:1 Macro Photography March 2010
A home for images that are 1:1
A Class of Its Own Dec 09
Bubble $uccess Stories Sept 09
Featured Only Sept 2009
1:1 Macro Photography Feb 2009
A Photographer's Craft Feb 2009
Featured Only Aug 2009
Canon DSLR Group Feb 2009
The Woman Photographer March 2009
Extreme Close-Ups March 2009
All The Colors of the Rainbow April 2009
Australian Wildlife June 2009
Focus and Lighting July 2009
If it doesn't belong Sept 2009
! Bubble $uccess Stories !
Depth Of Field (2 images per day) March 2010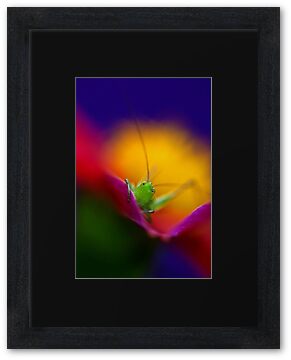 Another one of my bug images has been featured on red bubble home page the image is called White Valley! Two home page features in one week….so excited. thank you all…
This image is also on page 9 of Red Bubble all time favourite images… "see here":
My New 2010 Calender

Chalenges Won
1:1 Macro Photography Group: Won the March Avatar Challenge
A Photographer's Craft group: Won February Challenge
The Woman Photographer Group: Macro Bugs Challenge and itty bitty teeny tiny (ie..very small) challenge
Top 10 winner Quick November Avatar challenge
I found this tiny little Australian Grasshopper hopping around in my vegi patch. The flowers photographed in this image where also from my garden.
Photographing grasshoppers was new to me when I found this little guy in my garden, he was so green and cute I had to try and get a photo of him.
He didn't sit still for long, I had a few seconds, but when he looked straight at me I knew (hoped) this is going to be very special.
!another one of my bug pics called White Valley! has been featured on red bubble home page March 2009
Two home page features in one week….so excited. thank you all…
http://i165.photobucket.com/albums/u58/gamam1/c...

yeyyyy!!!!!!!!!!!