WELCOME to my world I am a women of few words thats why I love photography, but I must tell you something…..Photography, I LOVE IT!!!!!!!! need I say more
My work is on Exhibition!
Click here for More info
Facebook….Click here to come join me
MY WORK Hide and Seek HAS BEEN NOMINATED FOR SoJie 3 and take a look at the "3 awards" I won….so exciting…!

Photography Category – 1st Place
SoJie 3, May 2010

Kieran O'Connor Photography Award
for Excellence in Macro Photography
SoJie 3, May 2010
I am very excited to have my art selected, from over 30,000 works of art, to exhibit in SoJie 3. SoJie 3 takes its name from the Solo Exhibition group's Juried Invitational Exhibition. This month is only the 3rd one, ever, and 56 other artists, besides myself, are represented.
THIS JOURNAL IS ALSO PART OF A WEB RING. You can also follow other artists involved, by clicking on the WEB RING BADGE below. You don't need to be a member of Solo Exhibition to show your support, this web ring is especially for non members! Thank you!
*I am so excited here are the awards I have won for my macro photographic image in the Solo Exhibition group's Juried Invitational Exhibition SoJie 3 – May 2010 Hide and Seek
by Debbie Steer|!
ANOTHER ONE OF MY IMAGES FEATURED ON THE HOME PAGE…..thanks everyone


White Valley Walk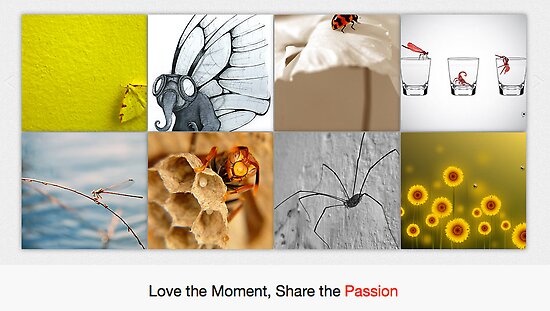 MY PHOTOGRAPHY BOOK…..take a look if you love nature………….
http://www.blurb.com/bookstore/detail/762704
Wholesale enquires welcome please bubble mail me & I will email you my Wholesale Catelogue
My Work Published in Gardending Australia Magazine Aug 2009

WELCOME… this is my world, I love it, I live for it and I hope you enjoy it………….thanks for visiting my corner of RB!!!
_My Images Do Not Belong To The Public Domain. All images and writing are copyright © Debbie Steer. All Rights Reserved. Copying, altering, displaying or redistribution of any of these images without written permission from the artist is strictly prohibited.
Two RED BUBBLE home page features in one week *
My photo "White Valley" has also been featured on RB home page this week too, March 2009!
DESIGN YOUR OWN CALENDER
Custom built 2010 calendars are available -
Just send me an email detailing which of my images you would like to see on each page of your very own one of a kind calendar, and I'll make the calendar quickly available on Redbubble for you to purchase.
DESIGN YOUR OWN UNIQUE CARDS OR INVITATIONS
Be it your Engagement, Wedding, 1st birthday, 18th birthday, 21st birthday, Hen's night etc… we all need invitations at some stage…. All my images are available as unique cards/invitations, simply email me any words you would like on the front of the card, with the image name/description and I will make it quickly available to you on Redbubble to purchase.
My Work Featured In a Group

May 2010 Juried Invitational Exhibition
<img style="visibility:hidden;width:0px;height:0px;" border=0 width=0 height=0 src="http://counters.gigya.com/wildfire/IMP/CXNID=20...; /><br><a href="http://www.maploco.com/view.php?id=3787480">... border=0 src="http://www.maploco.com/vmap/3787480.png"; alt="Visitor Map"></a><br><a href="http://www.maploco.com/">Create your own visitor map!</a><br>