I will always remember the first time I saw you. Tracy had known that I wanted an orange kitten, so, when a lady at work told her she had 2 orange kittens Tracy called me to see if I wanted one. Of course I did. She said there were 2 and asked if I wanted her to pick one for me or if I wanted her to bring both of you for me to decide. She thought I might not want you because you sounded a little sickly. You had a little bit of a wheeze when you would breath. I asked her to bring both of you and I would decide which one I wanted. When I saw you there was no way I could just pick one and not the other, so, I told her that I wanted both of you. Tracy took your dark tabby brother and named him Otis. We decided to stick with the Andy Griffith theme too and named you Opie and your brother Barney. Tracy kept you for a couple of days for me because I had to have surgery. A day of so after the surgery she brought you to me. You both were such adorable fun kittens.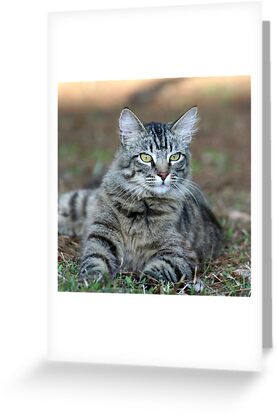 When I would be cooking or washing dishes you would take turns climbing up my leg and sitting on my shoulder while I cooked or washed. Sometimes when I would be leaning over drying my hair you would jump up on the sink and climb over on my back. It wasn't easy drying my hair while trying not to drop a kitty off my back. :)
It was hard to tell the two of you apart at times because you both looked so much alike. We finally realized that Barney had the longer face and you had the rounder fuller face. Also, Barney used to chew your whiskers off, so, that was another way that we could tell which kitten was which.
When you got a little older and we stared letting you go outside you both would give us such laughs chasing the blowing leaves in the yard. You were so funny to watch. I have pictures of you and Barney playing football in the front yard also. That was really a site to see. You were tackling the ball and then you would tackle each other. Thank God for pictures to remember so many of the moments. I know I will always have the memories in my mind but having pictures makes it even better.
I remember the first time that Lucky, our black and white cat, was asleep in a box and you and Barney went over and climbed in the box with him. I thought he would jump out of the box but he let you two little fellows snuggle up to him. It was such a sweet site.
When you and Barney were 11 months old we had you both fixed. Soon after that Barney disappeared. It was so hard not knowing what happened to him. We walked all over the woods looking for any sign of him and looking in trees to see if he was stuck in one. We never did find anything. We left the porch light on and called him every night for about a year hoping that one day he would show up. It never happened. I was worried that you would mourn his loss because you both were so close but you did well since there were other cats around still and we paid you extra attention. I was so glad that I had chosen to get both of you when you were kittens because that meant we still had you left.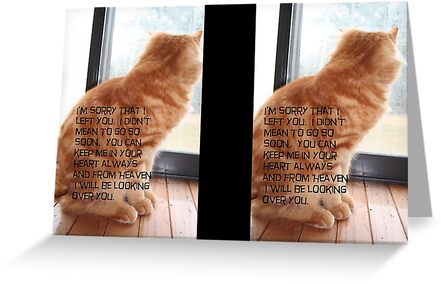 I loved the way you would drape around my neck like a fur collar. You trusted me not to drop you and would hang there while I walk around the house doing whatever it was I needed to do.
After several years we found another orange male cat that was being given away and after seeing pictures of him I had to have him. It took him a while for him to warm up to the other cats, but once he did you all came to love each other. We named him Ernest T. because we wanted to still stick with the Andy Griffith theme. It seemed so right to see you and Ernest sitting side by side, sleeping by each other or bathing each other. It made me smile every time I saw that. It was funny to watch Boo bathe you and you bathe Boo and then you both would get mad at each other because you both wanted to be the one doing the bathing.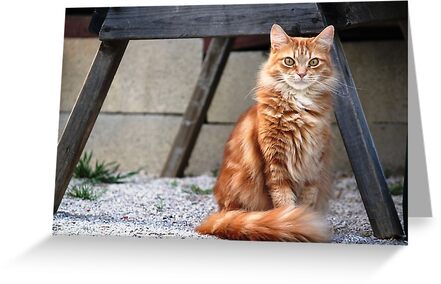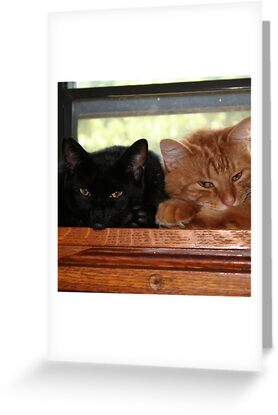 I also loved the way you smelled when you came in from being outside. On a sunny day you smelled so good, just like sunshine.
You could be so hard headed at times. Like when you wanted to stay out hunting and we were ready for you to come in so we could go to sleep. I would drive up and down the driveway honking the horn to wake you up if you were in the barn or the woods sleeping. There was no way I could go to sleep with you outside, not after the way Barney disappeared. You were also hard headed when we would be eating supper. You would want to jump up on the table and see what we had to eat. If you were not interested in what we had you would leave. If we had something like chicken, which you loved, we could not get rid of you. I finally had to start giving you a little chicken or whatever you wanted and shut you in the bathroom with it so that we could eat in peace. If you could just get better I would let you jump in the middle of my plate and not even get mad at you.
A few weeks ago I noticed that you had lost weight so I took you to the vet. You had lost down from 10 pounds to 7 1/2 pounds. They ran tests for fiv, heartworms, leukemia and diabetes. I was so relieved when the tests came back negative. The vet said to give you vitamins and an antibiotic and bring you back in about a week to be weighed again. In about a week you started having trouble walking. Your back legs would sometimes go out from under you when you were walking. I took you back to the vet for some more tests. The bad news was that you were anemic and in kidney failure. I was shocked and heartbroken. I could not stop crying. I think I cried for over 2 hours straight. The vet flushed your kidneys but still your levels were too high. One of the levels was about 4 times what it should be. The vet said that Danny and I needed to make a decision on what we wanted to do. I think he thought we should have you put to sleep. We went back to see you and got you out of the cage. You could still eat, drink, go to the bathroom and walk even though you were so sick. You tightly grabbed hold of Danny when he held you up on his shoulder as if to say don't leave me here. When you did the same thing to me I knew there was no way we could have you put to sleep yet. You are now home with us and resting comfortably in my lap, sleeping on a pillow. You are not purring like you used to always do and I know that you are getting weaker. Today you drank some water but were not really interested in eating. I know that it is only a matter of time until you cross that Rainbow Bridge and I hope that I can be here with you when it happens. I keep hoping for a miracle but I don't think it is meant to be. My heart is breaking and the tears are once again flowing. You have been my baby for 6 years and I don't know how to let you go.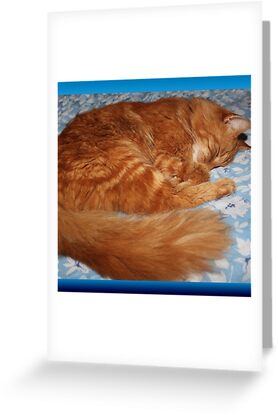 I know Barney will be waiting on you and you two will once again be chasing blowing leaves and playing football. :)
I have held you and told you that I don't want you to go but that it is okay for you to do what you have to. I certainly am going to miss my gorgeous little golden boy.
June 22, 2011 – my sweet little boy passed away between 4:00 p.m. and 5:00 p.m. this evening. I am going to miss his sweet face so much.