All images are copyright © David Silsbury Photography
All images contained may not be reproduced, copied, edited, published, transmitted or downloaded in any way, shape or form
All rights are reserved
Copying, altering, displaying or redistribution of any of these images without written permission from the Artist is strictly prohibited
Sold Work
Tower Bridge
The Old Pump
Pink Carnation
18th February 2010
1st March 2010
3rd August 2010
Secret Path
Prague Castle
Charles Bridge, Prague
3rd September 2010
3rd September 2010
26th November 2010
Charles Bridge, Prague
Peach Rose
28th November 2010
20th September 2011
Home Page Features

Time Traveler
Challenge Winners
Peach Rose
Osteospermum Philip
Time Traveler
November 2009
December 2009
March 2010
Time Traveler
Osteospermum Philip
Country View
July 2010
November 2010
December 2010
Room with a View
Why
Time Traveler
January 2011
January 2011
May 2011
Peach Rose
Time Traveler
Silversmith at Work
May 2011
August 2011
September 2011
Before and After
Peach Rose
September 2011
September 2011
Featured Work
Featured Member of Artists Universe – May 2011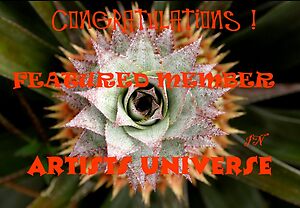 Special Featured Member in the Extreme Close-Ups group – October 2009
A Specialty Award for consistantly supporting your fellow RedBubble artists with comments & encouragement – October 2009
_ _ _ _ _ _ _ _ _ _ _ _ _ _ _ _ _ _ _ _ _ _ _ _ _ _ _ _ _ _ _ _ _ _ _ _ _ _ _ _ _ _ _
I am a retired IT professional who specialized in large infrastructure and data centre projects. I have undertaken work in a number of places including Europe, the Middle East and the US. I have been married for 42 years, have three adult children and three grandchildren.
Photography has been a keen interest of mine since I was a boy and used a folding camera which I believe was a Kodak Hawkeye loaned to me by my oldest sisters boyfriend. My interest was such that I was then given a Kodak Brownie Box that Christmas. Two years later I progressed to a smaller Kodak Brownie 127 that was made out of bakelite or plastic and a little more portable.
Several years later at the age of fourteen I was saving for something a little better doing milk rounds and anything else that would earn me a few shillings. I finally saved enough to purchase a Yashica 635 which was a twin-lens reflex dual format camera taking 120 and 35mm film. I used this camera for over 10 years but because I was planning to work in the Middle East foolishly part exchanged it for a a super8 cine camera, to this day I regret parting with this excellent camera with its pin sharp optics.
Whilst in the MIddle East I sold the super8 and during my UK leave walked the street of London attempting to find a stockist that had the very new Olympus OM1. I eventually found one who said that he could have one the following day if I was prepared to leave a sizable deposit. Fortunately he was as good as his word and I became the proud owner of one of the smallest, lightest SLRs available at the time, it served me well for many years. I still have the Olympus although I progressed to the Canon EOS 10 then 5 and then on to the D60 and now the 5D. I have a variety of compact cameras including the Canon G9 and Leica D-Lux3. I also use a Sanyo Xacti HD digital movie camera.
I do not specialize in any particular type of photography and before the digital age I used slide film for everything other than photographing the family. Despite my efforts I have not as yet managed to scan all of my slides, only about 4,500 to go.
Whilst I don't do much studio work these days I do have three Elinchrom mono-blocs and one or two different backdrops including a Lastolite HiLite which is worth its weight in gold.
I joined RedBubble on 24th September 2009