A rattle snake latch opens the main door to the church at San Xavier del Bac mission in Arizona.
I'd be reluctant to wrap my hand around this handle, especially since it seems the serpent has already taken a couple of bites off the old iron tack above its head.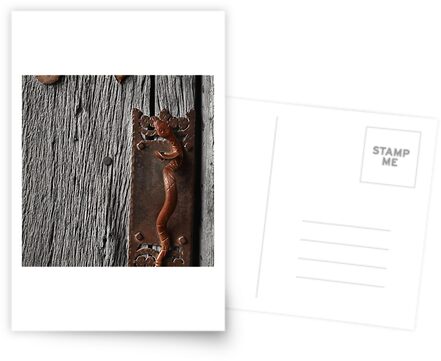 Olympus E-3, 14 mm, 1/13 Sec, f/5.6, ISO 200
The San Xavier del Bac mission in the Tohono O'odham San Xavier Indian Reservation south of Tucson, AZ is the oldest continually running Spanish mission in the USA.
Founded by Jesuit Padre Kino in 1692, the mission was taken over by Franciscans in 1768 just one year after King Charles III banished the Jesuits from his kingdom.
Construction of the main church, also known as "The White Dove of the Desert", was begun by franciscan missionary Fr. Juan Bautista Velderrain in 1783.
Click on this Link to go to the San Xavier del Bac web-site.
Copyright © 2010 Richard G. Witham All rights reserved