Happy Independence Day to all my friends from the USA!
I created this poster in celebration of the USA Independence Day using my photo Nature's Fireworks .
The explosion in this photograph is a macro view of a cat's claw blossom, (Mimosa nuttallii) which in this case was around 1/2" in diameter, taken along a country road in Habersham County, GA
These wildflowers begin to bloom just before independence day in the USA, as if in simulation of the fireworks to be seen across the nation on July 4th.
FEATURED This artwork was included in the Happy Birthday America Feature page on July 4th, 2010 #1Artists of RedBubble Group
FEATURED in Georgia Artists Revealed July, 2010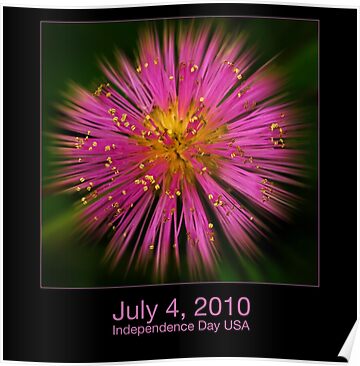 Photograph taken with an Olympus E-3, Sigma 105 mm macro and EX 25 extension tube.