Waterspout over the Gulf of Mexico photographed from Boca Chica beach near Brownsville, TX.
Olympus E-3, 158mm, 1/125 @ f/22, ISO 100
Copyright © 2013 Richard G Witham, All rights reserved.
This is the only close up photo I was able to get with my 70-300 lens. The rest were too hazy, and the spray ring, (On the surface of the water) is less evident in the color version. I also think the cloud texture shows up better in black and white.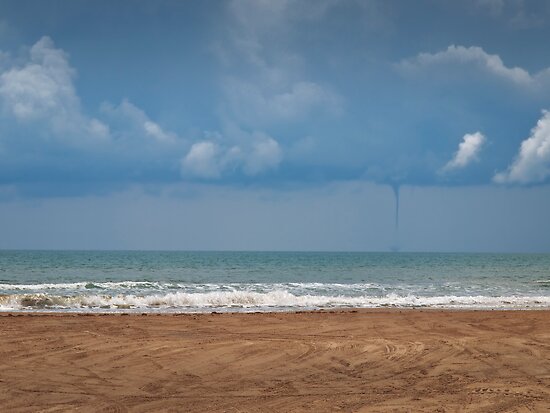 Waterspouts do not suck up water; the water seen in the main funnel cloud is actually water droplets formed by condensation. They have a five-part life cycle: formation of a dark spot on the water surface, spiral pattern on the water surface, formation of a spray ring, development of the visible condensation funnel, and ultimately decay. Taken from Wikipedia > Waterspout (Wiki).