I work primarily in photography and dabble a bit with drawing and digital art. My attraction to different areas of these arts tends to wander, so my gallery exhibits a range of works from classic macro and landscape photography to abstracts and photo-art compilations. I also enjoy writing and encourage visitors to look through my collection of poetry and prose.
Access my Collections by clicking the thumbnails on the right ➞
To see my most recent work scroll to the bottom of the right hand column ↘
I thank you in advance for your visit and welcome your comments and inquiries
---

---
⬇ . . . New gallery of iPod, iPhone and iPad case designs . . . ⬇
---
Playing with Shadow play What if shadows could detach themselves and play around on their own?

Perhaps they'd make fun of us once in a while as they have with my morning routine above, but I've also found them presenting insight into the character of their human counterparts.
Of course, shadows aren't only cast by humans …
See more antics and artwork by my grey friends in my Shadow play gallery
---
Camera painting captures motion and color either as it is produced by nature or by moving the camera during long exposure.
The three images above were created by holding the camera still during a long exposure to allow the natural motion of wind or water to create impressionist renderings.
The following three images were created by moving the camera during long exposure to produce the abstract designs and sense of motion. I created the first image, Sparkling Winter Garden by moving the camera in a zig-zag pattern during the exposure. For the second image, Playful I zoomed out during the exposure and the third image, Winter Forest Sunset was produced by moving the camera vertically during the exposure.
Camera painting can be lots of fun in just about any situation where long exposures are possible. You can also delay exposures with the use of ND filters in some situations.
---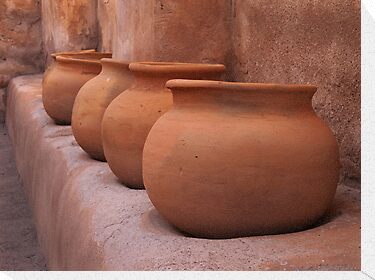 Granary Jars
Making simple subjects interesting can be a daunting task, but it's often a matter of looking for unusual angles and applying some basic rules of composition. My knowledge of composition is pretty basic, the rule of thirds, the golden rule and the descending angle, but I've also been fairly successful just going with intuition. In the case of Granary Jars I got down low to fill the frame with the jars and set the focal point in the lower right corner. This makes use of the golden rule and the idea of descending angle to create an image that's pleasing to the eye while emphasizing the texture and color of these old, hand-crafted jars.
A more personal rule that I've learned is to avoid taking photos from the same angle and viewpoint as everyone else.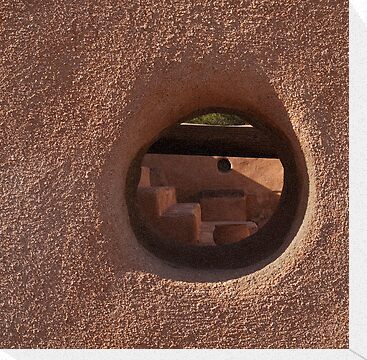 Granary Porthole
This is more of a concern with shoots at highly touristed areas. I've no desire to replicate the thousands of photographs that already exist, so my first thought when entering these areas is to search for unique views and to work outside the norm.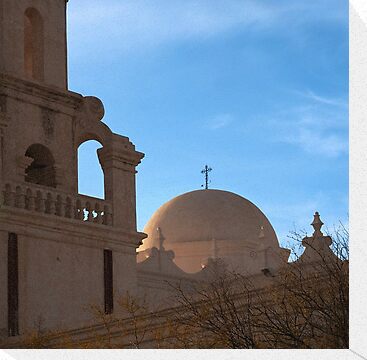 Candlelight
View the rest of the works in The mission series
---
Smoke sculpture and poetry.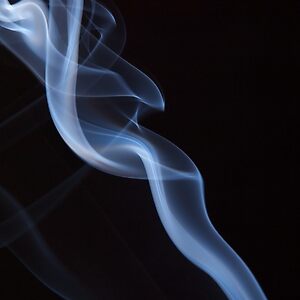 Cheerful Waters combines smoke sculpture, or smoke-trail, photography with my Haiku "Angels in the crowd"
Cheerful waters flow
Cascading down their own path
Sprinkling drops of joy
Angels in the crowd flows from the premise that happiness comes from within and celebrates the well-being propagated by joyful persons to all who find themselves within their wake.
---
At Home began as a study of light and composition. My intent was to capture the magic of this lily pond without distracting glare from shiny leaves and deep, impenetrable shadows. I also wanted to include some of the animal life inhabiting this pond, so I made several visits to study the light and spent hours waiting for little critters to emerge.
The final shoot produced two photographs with some nice variations of light and color. At Home is lighter even in the shadows and Three Times a Damsel displays deeper contrasts and wonderful reflections.
Please click on either of these photographs to visit their respective gallery pages where you can see a larger view and leave comments.
---