Original design was: Acrylic paint, art & ink pen, on 10×10cm canvas. Digitally altered.
Palette is: blue, indigo, cobalt, cerulean, navy, royal, turquoise, aqua, sapphire, teal, ultramarine, azure, sky, green, jade, turquoise, white, grey, black.
Representing Buddha supporting his head, resting.
This was originally a small canvas i have produced for the 1008 Buddha Project which originated by STEVE BRUCE on facebook… An explanation IN STEVE'S WORDS…." the essence of the 1008 Buddha Project: Create a project to bring a multicultural world, an east and west, north and south converging world together to paint 6"x 6" Buddhas as a public act of devotion and to meditate as a group on the "cave wall". My intention for the 1008 Buddha Project is to become an exhibit assisting causes that encompass the qualities of the Buddha: Loving Kindness Compassion and the Six Perfections of Ethics, Generosity, Patience, Tolerance, Joyful Effort and Wisdom."
There is also a Fire Buddha and an Earth Buddha design for Tees, Hoodies and Stickers here
See all my other Buddha design art here
Also available as Stickers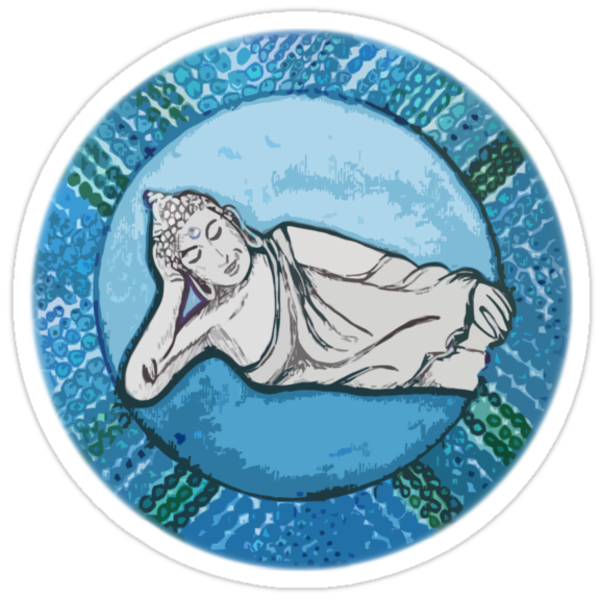 ©Danita Clark 2013 NOTE: Copying and displaying or redistribution of this image in whole or in part, in any form or by any means, without permission from the artist, Danita Clark, is strictly prohibited. Removal of embedded watermarks on any image is strictly prohibited. To request permission to use any material on this page, to link to any image, and for further inquiries, please contact Danita Clark.