More Ways Art is Stolen; reversed
My most stolen image seems to be Giant Coffee Drinking Chicken.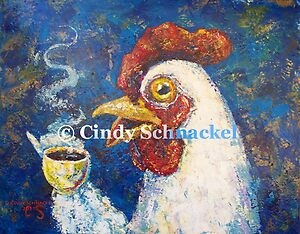 Giant Coffee Drinking Chicken
by © Cindy Schnackel
Today I thought I'd try an experiment to see if:
1, Google's reverse image search 'recognized' a reversed version of the image and brought up my usual RB pages, etc, and
2, if I'd find any examples of a popular theft trick to reverse an image because it'd be harder for the owner to find.
To do this I simply opened my image in Photoshop, flipped it horizontally, and saved it as a new version. Then I uploaded it to RB on private view, and did a google reverse image search for it, which is explained in my Journal on finding and dealing with copyright theft if you've never done that before.
Well, today I found the first instance I know of, of someone reversing my work and redoing the signature besides! (Though I know some of you have already discovered this way of theft because you've told me about it!)
Here's the stolen image's location [Edit: March 2012 the site took down the image shortly after I submitted a takedown notice to the host; in some cases this makes the image appear blank or it says removed, etc, but in this case the person found a new image.]
Here is his reversed version immediately found on the reverse image search. I enlarged the signature areas of his version, (below), so you can see he obliterated most of my initials and on the opposite corner put in his own signature. Since he was only able to get a low resolution image this is really not good quality but you can see he redid the signature and is claiming it as his work.
I will be sending a takedown if possible but this appears to be a foreign site. Anyone have any advice if the takedown is not going to apply? If I can't get it taken down I fully intend to out him. [Edited Mar 20, see note above, the image was removed very quickly after the takedown notice. But I check it occasionally to see that it stays down.]