Lightning from a storm during the July 2, 2006.
Camera was kept on a tripod, three exposures of a very violent storm. While photos were co-added these are the exact locations of the different strikes. No position manipulation.
I was able to get these photos by being inside my garage, sitting on the back of my Jeep, feet off the ground.
This photo was taken in the Pine Barrens of Whiting, New Jersey.
The lightning strike on the left was so quick and bright, raindrops were caught and can be seen as round drops.
The Lightning on the right side of the photo is rare ribbon lightning. Multiple individual strands parallel to each other. This forms during high wind.
Best Viewed Large
Even viewed large (redbubble large) does not do the ribbon lightning justice.
Please visit my SkyScapes Gallery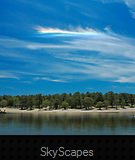 Or visit my website Cometman.com