Anzac Day is coming up on April 25th and I arranged a few pertinent items together and photographed them on my Grandad's World War 1 army vest.
The book is called Anzac Memories…Images of the Great War and the photo is of the disastrous Gallipoli campaign in Turkey which my Grandad fought in.
The quote seems so true and relevant especially after the recent devastating eathquakes here in Christchurch and elsewhere in the world.
" You can no more win a war than win an earthquake" ……Jeannette Rankin.
There are also Anzac poppies of course and some items from my trip to the World War 1 battlefields of France and Belgium several years ago.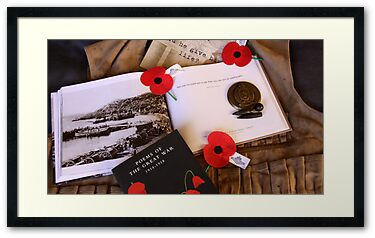 Featured on the RedBubble Homepage April 25th 2011 in a feature on ANZAC Day.