I'm a painter – landscape, old buildings, historic churches, in fact anything to do with our heritage and the land…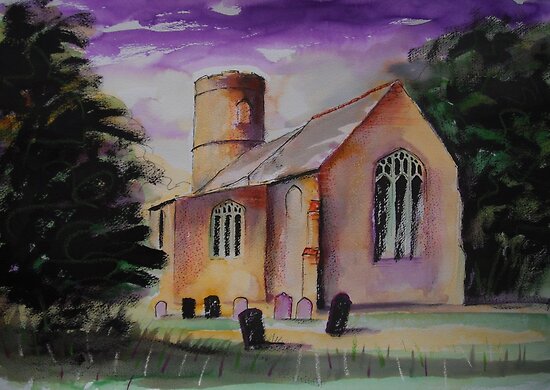 I like to work outdoors – en plein air – when I can. Using inks and oil pastels I work quickly trying to capture a 'sense' of the location. Back at the studio I like to work on a larger scale with acrylics on stretched canvas. Acrylics allow me to experiment with marks and textures whilst the quick drying time means I can work over the top of previous layers on the same day, if required. I like to work Alla Prima (wet into wet) and produce each piece in one attempt, if possible. However I will go back to add highlights or rework sections if necessary, but I certainly don't spend hours and hours on each painting!
I am honoured to have had my work featured on many RedBubble groups, and I'm also very honoured that my paintings now hang in private collections throughout the world.
I am also very happy to assist appropriate charitable groups where I can – my paintings have helped raise funds for a number of groups in the UK, in their bid to save historic buildings or landscape for the benefit of the nation.
If you wish you can find out more about me on my website
I am also on Facebook
May 2011 Juried Invitational Exhibition
Join me at the Juried Invitational Exhibition…