Image taken early morning of Gold Hill, Shaftesbury in Dorset, England, following heavy snow falls on Friday morning.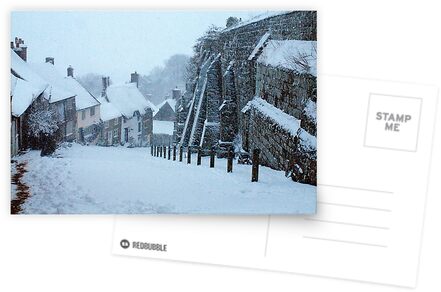 Gold Hill is a steep cobbled street in the town of Shaftesbury in the English county of Dorset. It is famous for its picturesque appearance; the view looking down from the top of the street has been described as "one of the most romantic sights in England." The image of this view appears on the covers of many books about Dorset and rural England, as well as on countless chocolate boxes and calendars.
Gold Hill has also been used as a setting for television commercials: it features in the 1973 "Boy on Bike" television advertisement for Hovis bread, that has been voted Britain's favourite advertisement of all time. It was directed by Ridley Scott, and includes the distinctive main theme of Antonín Dvořák's Symphony No. 9. Gold Hill also featured in a recent advert for supermarket Morrisons.
The street also features in the 1967 film version of Thomas Hardy's "Far From the Madding Crowd".
At the top of the street is the 14th century St Peter's Church, one of the few buildings remaining in Shaftesbury from before the 18th century. The ancient cobbled street runs beside the walls of the ancient Shaftesbury Abbey built by King Alfred the Great.