Image of Salisbury Cathedral taken across the wetlands.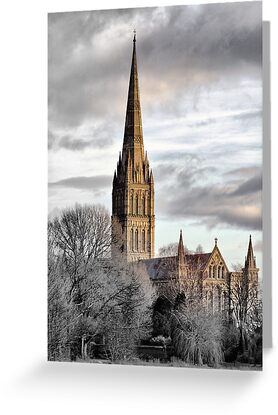 The history of Salisbury Cathedral begins two miles away at Old Sarum, an ancient fortified plateau where a Norman cathedral was built by Bishop St. Osmund in 1075. The sight must have been impressive, but the location proved to be a constant headache due to its exposure to the elements and lack of sufficient water.
Finally, in 1217, Bishop Richard le Poore wrote to the Pope for permission to abandon the site for a better location two miles away, at the confluence of two rivers. The petition was granted and the clergy moved to the new site in 1219.
Construction on Salisbury Cathedral began in the Early English Gothic style in 1220. The work was completed quickly, resulting in a unity of architecture rarely seen in England. Even after Bishop le Poore moved to Durham, the builders adhered to the original design until its completion.
In accordance with common practice, construction began at the east end and worked west. The Chapel of the Holy Trinity and All Saints was completed in 1225, after which the tomb of St. Osmund was moved there from Old Sarum. Next came the choir, transepts and nave, which were complete by 1258, when the cathedral was consecrated. The elaborate west front was finished in 1255, the cloister in 1270 and the chapter house in 1284.
The only major element to be added later was the famous spire, which came along in 1310-33. But its shape matches the cathedral perfectly and is made from the same stone, quarried from Chilmark 12 miles away. The spire was a daring addition, forcing the structure below to carry a dangerous amount of weight (6,500 tons with the tower). Only a multitude of buttresses, bracing arches and iron ties have kept it from collapsing over the centuries.
The rare harmony of Salisbury Cathedral was damaged by the architect James Wyatt in 1789-92, whose "restorations" included removing the 13th-century choir screen, high altar, stained glass windows and detached bell tower, and rearranging the nave's monuments into rows. Another restoration by Sir George Gilbert Scott in 1859 attempted to put some of it back together again.
Image worked on in Picasa 3