Image of these beautiful old Steam Traction Engines captured along the Old Bandford Road in Wiltshire as they made their way to the "Great Dorset Steam Fair" being run this week.
The three of them are doing a 'Pull-Push' along with a massive 45,000KVA / 132,000volt power transformer.
Their speed reached a staggering 15MPH at one stage.
Camera Olympus E-30, Focal length 40mm,
Shutter speed 1/400s, f/5.0, ISO200.
Additional work added using Paint Shop PhotoPro 3.
117 views as of 06 Sept 11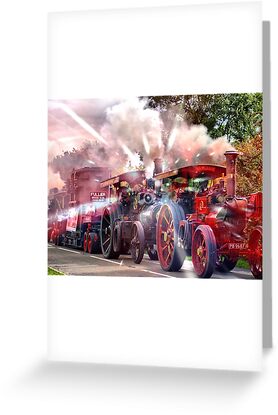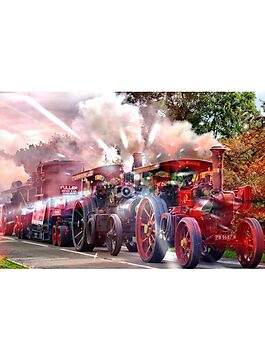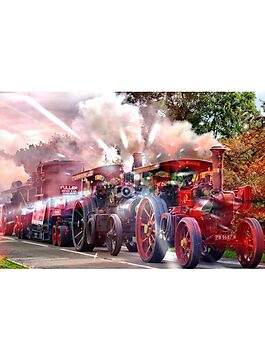 A traction engine is a self-propelled steam engine used to move heavy loads on roads, plough ground or to provide power at a chosen location. The name derives from the Latin tractus, meaning 'drawn', since the prime function of any traction engine is to draw a load behind it. They are sometimes called road locomotives to distinguish them from (railway) steam locomotives – that is, steam engines that run on rails.
Traction engines tend to be large, robust and powerful, but heavy, slow, and have poor manoeuvrability. Nevertheless, they revolutionized agriculture and road haulage at a time when the only alternative prime mover was the draught horse.
They became popular in industrialised countries from around 1850, when the first self-propelled portable steam engines for agricultural use were developed. Production continued well into the early part of the 20th century, when competition from internal combustion engine–powered tractors saw them fall out of favour, although some continued in commercial use in the UK into the 1950s and later. All types of traction engines have now been superseded, in commercial use. However, several thousand examples have been preserved worldwide
* * * * * * * * * * * * * * * * * * * * * * * * * * * * * * * *
The Great Dorset Steam Fair (since 2010 also known as The National Heritage Show) is an annual show featuring steam-powered vehicles and machinery. It now covers 600 acres (2.4 km2) and runs for five days from the Wednesday after the UK August bank holiday. It is reputedly the largest outdoor show in the world.
The fair was founded by Michael Oliver, who died in 2009, and has been held in Dorset, England, every summer since 1969, currently at Tarrant Hinton near Blandford Forum. The show is now run by Michael Oliver's son, Martin Oliver through Great Dorset Steam Fair Ltd.
The most numerous exhibits are traction engines, tractors and farm machinery, but there are also sections for classic cars and commercial vehicles, working shire horses, rustic crafts, 'bygones' displays, and more. The show also has a market, autojumble, live music and funfair (some of which is powered by the steam engines). The funfair has traditional rides such as gallopers and steam boats, as well as modern ones like the "World Fair Wheel" which was sited in Manchester for the millennium. It is the biggest gathering of fairground organs in the UK.
The show regularly attracts around 200,000 visitors, and there can be 30,000 people on site, making the fair the fourth largest population centre in Dorset, after Bournemouth, Poole, and Weymouth (the population of the historic town of Dorchester being only half that number).
A speciality of the show is the display of traction engines and steam rollers performing the work for which they were designed. Such displays include heavy haulage, threshing, sawing logs, ploughing and road-making. The main arena of the show is purposely sited on the slope of a hill to allow both steam- and internal combustion-powered machinery to demonstrate their capacity for heavy load hauling. One of the main displays is the "Showman's Line up", in the vintage fairground section, which is thought to be the largest collection of showman's engines in the world.