Image of the Point Lonsdale Lighthouse taken using an Olympus E-520 camera,
Focal length 14.0mm, Shutter speed 1/640s,
f.5.6, ISO100.
.
Point Lonsdale Lighthouse, also known as the Point Lonsdale Signal Station, is close to the township of Point Lonsdale in the Borough of Queenscliffe, Victoria, Australia. It stands at the eastern end of the Bellarine Peninsula, on the western side of the entrance to Port Phillip from Bass Strait, on a headland overlooking the "Rip", a stretch of water considered one of the ten most treacherous navigable passages in the world, and the only seaborne approach to Melbourne. It is operated by the Victorian Channels Authority, part of the Port of Melbourne Corporation.
The first navigation aid at Point Lonsdale was a signal station erected in 1852. In 1856 a red pillar beacon was built. In 1863 the original Queenscliff Low Light, a prefabricated wooden structure, was re-erected at Point Lonsdale and painted with distinctive black and red bands. It used a temporary light until a permanent light was lit in 1867. It was replaced by the current concrete tower in 1902, with the wooden tower dismantled and cut up for firewood in 1912.
Responsibility for the light passed in 1915 from the state of Victoria to Commonwealth control. It was handed back in 1934 with the lighthouse classified as a "Harbour Entrance Light" rather than a "Coastal Highway Light". The signal station and observation room were added to the base of the tower in 1950. Although the light was automated in 1999, the signal station continues to be staffed 24 hours a day and controls the movements of commercial shipping within designated areas both outside and inside Port Phillip Heads, making it possibly the last manned lighthouse in Australia.
.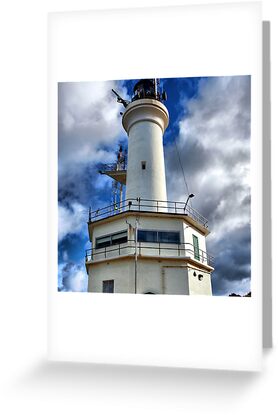 !http://ih0.redbubble.net/work.5420208.1.mtd,375...%!