06.03.2014: 870 views.
Featured in For the Love of Cats on 30.06.2011.
Featured in High Quality Images on 20.07.2011.
Featured in Superbly visual on 23.07.2011.
Featured in Cat's Pajamas on 03.02.2012.
Featured in The Group on 24.04.2012.
Featured in Moody and Evocative in June 2013.
Featured in Australian Women Photographers on 28.11.2013.
Featured in Muted on 02.12.2013.
This is the original image: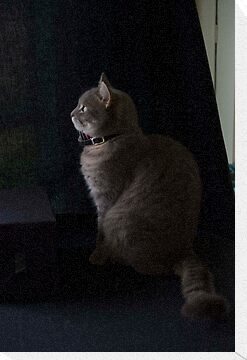 Misty made me laugh when I was setting up for this shot. I took a few shots of her antics just for fun but when I saw her in this pose, I hoped very much that it would turn out nicely. The more I look at it, the more it really draws me to it. Len's nickname for Misty was "Mischievous One"! A very appropriate nickname, I might add but, for once, she wasn't being michievous – she just sat there, looking out the window.
Does she know Len is gone? I don't know, but what I do know is that she misses him – that's a whole 'nother story in itself!
Misty is looking out the window to the left of the shot and I love the way this has a somewhat spiritual feel. I think the light is what does this.
I was tempted to leave the image as it was, slight blurriness and the lack of fabric on the right but I decided to see what I could do. I hunted up a recent copy of Photoshop Creative magazine (Issue 72). It has a good lot of tips in it and one of them was on Sharpening. I normally use Smart Sharpen but I've been told and read somewhere that I should use Unsharp – I don't know why this is suggested, I've never seen a reason given for its preferece.
Anyway, after a bit of fiddling this is what I came up with. I don't think I've over-sharpened it! I also copied a section of the fabric and pasted it over the right-hand side. I then used a black paintbrush to cover up a few small areas – I couldn't be bothered selecting, copying and pasting again.
This is the final result and I admit, I'm proud of it.
Shot with a Pentax K100D, Sigma 18 – 50 mm lens.