I decided to experiment with layering again. This image, though, isn't what I had in mind when I started out but I couldn't find one of the photos I needed, a stunning sunset, so when I came across this sunset photo, I thought it would suit. (The original untouched images are shown below.)
This image is composed of two photos combined using Overlay. One photo is of a sunset taken over my back fence, using a Kodak DX6490. The other is a flock of seagulls presumably heading to their nightly roost, at a beach not all that far from home, taken with a Pentax K100D. The flock is larger than can be seen in this image.
The sunset photo was layered on top of the birds. I increased the size until it was larger than the birds and moved it around to get the best placement of the birds
The sunset was lightened just a little using Curves and the same was done with the birds. The sunset had street lights, a few cars and the date removed using both the Healing Brush and Paint brush. I then cropped the bottom of the image as I felt it looked better.
Base image: Shot with a Pentax K100D; 3008 px W x 2008 px H, 240 ppi; 31.83 cm W x 21.25 cm H: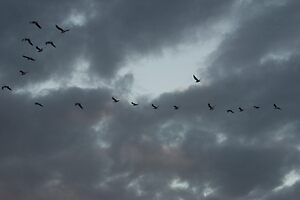 Sunset: Shot with a Kodak DX6490; 2032 px W x 1354 px H, 230 ppi; 22.44 cm W x 14.95 cm H: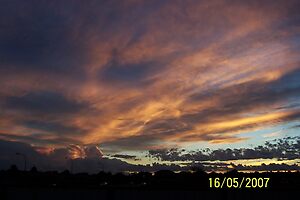 .
Thanks for looking. I hope it's a reasonable result. All comments are appreciated.