© 2011 Chris Armytage, Fine Art Photography, Daylesford
---
In recognition and support of those brave people of Queensland, Australia, who have lost loved ones, homes and possessions in this terrible flood.
All profit from the sale of any of my works this month will go directly to aid those affected by the flood.
---
My life is a dead tree;
Spring is a mockery to it;
But in the winter it shall bear the snows
And rear aloft its stark and hopeless branches
As bravely as another.
Thomas E. Moore (The Dead Tree)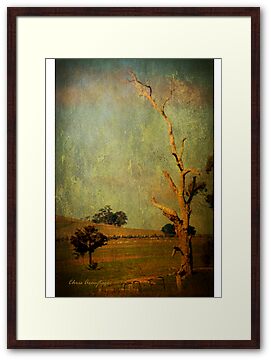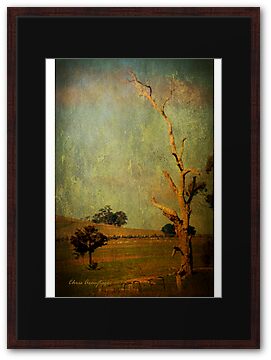 FEATURED in Atmospheric Land and Seascapes 12 January 2011
FEATURED in Inspired Art 12 January 2011
FEATURED in #1 Artists of Redbubble Permanent Features Page – The Best of Grunge 28 January 2011
FEATURED in High Quality Images, Permanent Feature Page – One Moment in Time 19 June 2011

Member of Host Hullabaloo 2011 – celebrating Group Hosts of Redbubble in Solo Exhibition
---
Photograph taken near Franklin Ford in Victoria, Australia, with a Canon EOS 450D, processed and layered with textures from my own photo stock in Photoshop CS3.
---
Thanks so much to each and every one of you for your visit. I value your comments and will reply by visiting and commenting on your work in return.
---
*11 January 2011
"Eight people are dead and grave fears are held for more than 70 people still missing after yesterday's unprecedented flash flooding in southern Queensland.
Young children are among those dead after a wall of water raged down the Great Dividing Range at Toowoomba, crashing through several smaller towns in the Lockyer Valley below.
Police say more deaths are expected but the numbers cannot be estimated.
It is unknown how many people remain stranded on their roofs as the torrent heads east, while residents in low-lying areas of the Brisbane Valley are being urged to leave as a severe storm looms over the region."*
read more here
Donate to the official Queensland Government Flood Relief Appeal here
---