© 2010 Chris Armytage, Fine Art Photography
---
A collaborative work with RJHeller whose wonderful written works I have only recently discovered – thank you so much RJ for the honour of working with you!
"Stories told…" (impressions from "Land of Stillness" by ChrisArmytage)
by R.J. Heller
"what started so long ago continues, and brushes by all, everything, leaving traces of itself to be found again and again…
echoes last forever, they are carried from the edges of time
as a single note … so very long ago, embraced by the wind
it flew … through a millennium of lives, to reach its resting place
a place where it lies, takes root, and speaks to all that pass
contained within, words, letters that move, a language of all
for all, listen with your eyes … loudly, the echo
tells of place, where we have been … and where we shall go
it tells of experience and of lessons learned, misplaced or forgotten
---
the very first wind took flight so long ago, and simply
carried the sound of others … the dreams, the words, the essence
of story to distant lands … to be found, by you, by me
the air is ablaze with memory, restless thoughts seeking shelter
such is the grain that was carried, lying deep, waiting to take hold
then grows and speaks, telling us … of that journey
a life of story … found in streams, hills and wooded place
look and listen to all, lines and verse, chapters, life revealed
---
a blade of windblown grass is found simply waiting
with a gentle breeze at its back, it bends, the words dripping
it yields to all that listen, it speaks to you, it speaks for all
a story once told by one to another … Then … Now … Forever."
Copyright© RJ Heller : November 2010
---
3605 Views, 57 Favorings as at March 2014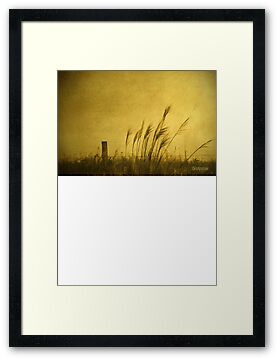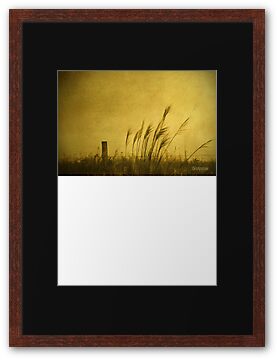 FEATURED in The World As We See It, or as we missed it, 30 October 2010
FEATURED in JPG Cast-offs, 30 October 2010
FEATURED in Monochrome 3 November 2010
REDBUBBLE Feature Page 20 November 2010
FEATURED in Beautiful Grunge Art – Permanent Feature Page – Saturated, 25 November 2010
FEATURED on High Quality Images, 6 July 2011
FEATURED in Nature and Man, 12 July 2011
FEATURED in The White Frame Group, October 2012
Over 50 favorites at 4 December 2010

In front of the door is the land of stillness and quiet;
Spring comes, grass grows by itself.
- Master Seung Sahn
---
Photograph taken near Hepburn Springs in Central Victoria, Australia, with a Panasonic FZ20, edited and layered with my own stock textures in Photoshop CS3.