Nominated for VaVoom's 'A Tribute to Women' Hosted by Solo Exhibition

See my work in VaVoom's, A Tribute to Women,
sponsored by Solo Exhibition
I was surprised, delighted, and very much honored when I learned that Tori Yule, host of VaVoom, had nominated two of my photographs for VaVoom's A Tribute to Women, which is hosted by Solo Exhibition and opens officially on January 15, 2014. In the meantime, you are welcome to visit and comment on the exhibition as it is being built (link above).
Tori's sensitivity to what lies beneath the surface in art is critical to the way this exhibition tells stories about women. There is a vast difference between just choosing pretty pictures and curating a cohesive set of images that work together. Tori has curated a superb exhibition.
In my case she chose two separate floral macros and saw a connection. The first photo, "Graceful dahlia petals," can be seen as a metaphor for a woman in the prime of her youthful beauty. Her curves are perfect, her skin dewy-fresh, and she greets the morning sun with optimism and a feeling of invincibility. In the second photo, "The diva's final aria," another dahlia represents the aging and wrinkled woman, dignified and still graceful although perhaps a bit weary as she nears death. When I originally made the second photograph, the flower reminded me of the dying Violetta's voluminous skirts draped over a chaise during her final aria in La Traviata (at age nine, my first opera and a profoundly moving experience).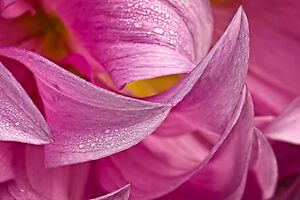 Graceful dahlia petals
by Celeste Mookherjee