Beaver Jim Villines Boyhood Home
I HAVE A DREAM
My all time favorite ol homestead, it reminds me of my mother, and my brothers, and sister, and our upbringing here in the Ozarks.
If I could have one "Wish" it would be to have this homestead rebuilt …in all its origionality on my property, but for now, I'll keep it in a photograph.
Spring Image…….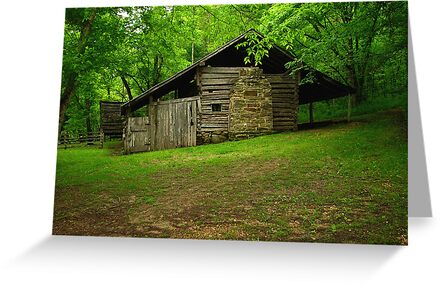 NOTE: the card is a clickable link.
Abraham Villines, and his children were among the earliest pioneer families in the Buffalo River valley. Abraham's grandson William built this log house in 1850 for his new bride, Rebecca. Four years later their son James was born here.
James Villines (1854-1948) was known as " Beaver Jim" for his trapping abilities. After his marriage in 1880, he moved from this home to his own farmstead across the Buffalo River.
In the mid-twentieth century, Villines family descendants used this house as a barn..with the chimney still attached. Today the notched, and hand- hewn logs recall the pioneers that carved their homes out of the Buffalo River wilderness.