Digital Art Of My Rocky
.
Ol' Rocky Talky…everyone gets nic-names around here :)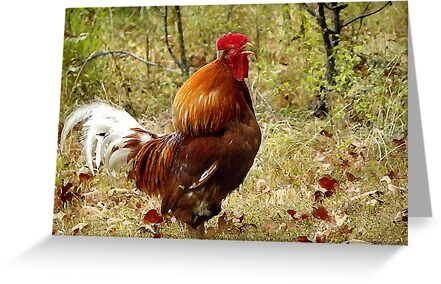 Most are not aware that a brood of chickens have the same nature as a pack of wolves
…..My Rocky, has gotten so old he lost his pecking order this spring to Little Red…..and he just re-challenged little red a few days ago, and lost the fight…he is in pretty bad shape right now. I feel so bad for him, and I have him in the chicken coop, and hoping he will recover…..but nature must take it course.
Rocky is close to 9 years old now, and this could be his last summer :( I am sad…..but so far he is holding his own.
If he recovers, it will be so sad too, because he will not be allowed to be a part of the brood, and now has become an outcast.
(please note: I was not at home when this took place, cause I would have stopped the fight from going this far.
Seems Little Red picked his timing. But, it is the nature of things. My chickens do live in the wild, and run free, they are never penned up. Its all very natural)
July 18, 2011 ~ REST IN PEACE, ROCKY….
Rocky didn't make it…..but…He had a good life……………
Most people think of chickens as dumb birds, but when they are in their natural habitate each one has their own personalities, and are very smart creatures. I will never be offended if anyone ever calls me a chicken :)) I alway got soo tickled at Rocky, he would watch over me while I was working in my flower gardens, warching for hawks, or any other danger that night be lurking about, silly bird treated me like I was just one of the old bitties! Hahaha…..Rocky live his whole life as a free bird.
LITTLE RED
Image taken a few years ago…..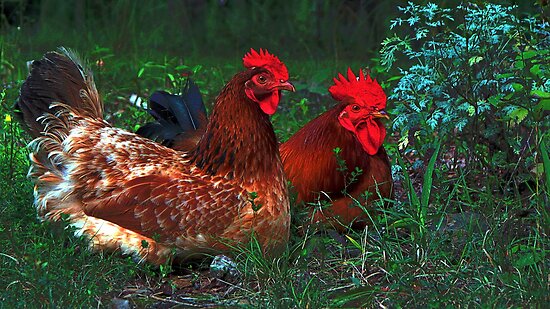 Barnyard Pals HDR my way, edited in GIMP2 :))) Canon PowerShot S3 IS
Little Red is in love with Lucy! tehe! Little Red is one of my younger just maturing rooster with his first hen following, he is so proud! The hens will have nothing to do with the roosters unless they provide well for them, and that means finding them great food to eat!
The roosters will actually find big fat jucie bugs, or better yet a frog, and call the hens over for dinner.
My chickens are always on the hunt for that tender morsel of a big juicy bug, and better yet a baby snake, thats like STEAK for chickens! LOL!!!