FEATURED PHOTOGRAPHY IN EXPLORE
Fall colors of the Ozarks.
NW. Arkansas, Usa. Fall 2010
Nikon CoolPix P90 iso 100
She always comes through with her best work, just before resting another season. Can't wait till she covers herself with her white robes that are clean, pure, and white, as snow!!!


I am sooo happy to have Mother Nature's Painting Her Landscapes, Again,
as "Featured Photography in Explore" ! Thank you RedBubble Community!!! Monday, December 27, 2010
THANK YOU for viewing my images!
Fall colors of the Ozarks.
NW. Arkansas, Usa. Fall 2010
Nikon CoolPix P90 iso 100

Image Writing,
Style,Class, Elegance, Exellence,
Freedom In Words & Art,
Blue Ridge Mountains & Southern USA,
A Little Bit Country,
Natures Paintbrush,
This & That,
Natures Symphony Of Trees & Flowers,
Disability and Beauty,
High Quality Images
Thanks to all the group host!!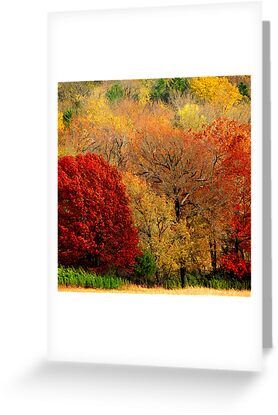 Arkansas is the year-round home to some 300 native species of birds, including bald eagles, assorted hawks, barn owls, bluejays, cardinals and other finches, and flycatchers, among others. Sightings of the large, majestic ivory-billed woodpecker, for decades thought to be extinct, were reported in the early 21st century in the state's east-central wooded wetlands. Arkansas is situated on the Mississippi flyway and thus is a seasonal way station for migratory ducks, geese, shorebirds, and various small land birds. The rice fields and reservoirs of the eastern part of the state attract many game birds and animals, among the most plentiful of which are turkeys, quail, deer, opossums, squirrels, and rabbits. Bobcats inhabit the hill country and feral hogs (locally known as razorbacks) are found in many parts of the state. In the mid-20th century black bears were reintroduced into the Ozarks. The lakes and streams of the state offer an abundance of fish, including crappie, bass, walleye, drum, catfish, buffalo, gar, and trout.
SOURCE HISTORY.COM