The Crag can't be seen so well here, but most that know my work, know.
I can't risist a shot with so much light, and color, no matter the scene.
I'm really good/bad at pushing my camera to its limits, and shooting dirrectly into the sun. Its so fun to see the play on light, and capture the colors.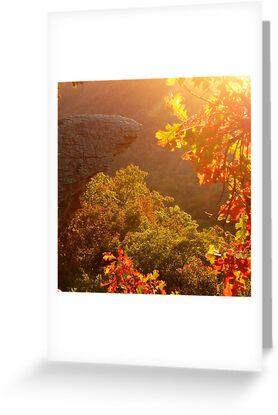 Hawks Bill Crag, Boxley Valley.
Arkansas Ozarks National Forest.
One of the most photographed rocks in Arkansas, Hawksbill Crag (otherwise known as Whitaker Point), is a landmark of the Buffalo River.
Fall Nikon CoolPix P90