KODAK Z760 ZOOM DIGITAL CAMERA
10/26/2006
Fall colors in the heart of the Arkansas Ozarks National Forest. Its amazing how our forests come alive with blazing colors each autumn season! Such a site after a long hot summer, and in this case, nice to revisit the colors of the previous years!
This image was taken at Withrow Spring National Park, in NW Arkansas. Just off Arkansas Highway 23 an Arkansas state highway with 134 mile of curvy scenic road winding its way through Northwest Arkansas. A stunning drive during the fall season.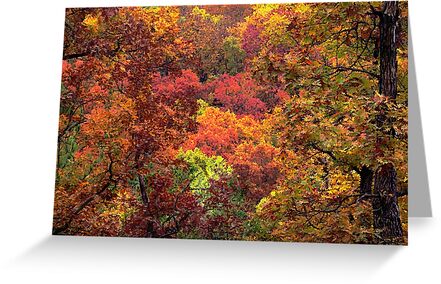 Arkansas Highway 23 is a state highway of 134 miles (216 km) in Northwest Arkansas. Between AR 16 at Brashears and Interstate 40 north of Ozark, Highway 23 winds through the Ozark National Forest and is designated as the Pig Trail Scenic Byway due to its steep hills and hairpin turns.
Northeast of St Paul, AR 23 and AR 16 split and AR 23 continues north through Madison County, meeting AR 74 south of Huntsville and US 412 BUS in Huntsville. North of town, AR 23 crosses US 412. AR 23 next passes Withrow Springs State Park, AR 127 and AR 12 before intersecting US 62in Eureka Springs. AR 23 and US 62 have a short concurrency before 23 turns north passing AR 187 near Holiday Island before terminating at SSR-P at the Missouri state line.
From Wikipedia, the free encyclopedia
Artwork from the origional image made in Gimp 2 using map warp, and dodge burn for that painterly feel.