War Eagle Mill, Rogers Arkansas, Usa.
Canon PowerShot S3 IS
FEATURED PHOTOGRAPHY IN EXPLORE!!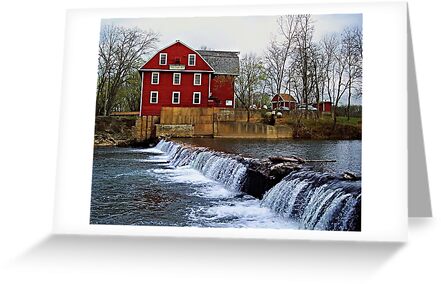 The mill dates back to 1832, but was destroyed three times, and last rebuilt in 1973. The mill currently operates as an undershot gristmill and houses a store and restaurant. The bridge and mill are located at about 10 miles east of the city of Rogers in War Eagle, Arkansas.
Sylvanus and Cathryn Blackburn moved to the War Eagle Valley in 1832 and built a mill next to War Eagle Creek.. In 1848 a flood pushed the mill into the river, washing it downstream and completely destroying it. The Blackburns rebuilt the mill and expanded it to include a sawmill. Business prospered as the local population increased.
In 1973, Jewel Medlin purchased the property. His wife Leta and daughter Zoe Medlin Caywood found blueprints and rebuilt the mill for the third time. The design was modified slightly to bring back the undershot waterwheel that had been used over 100 years earlier. War Eagle Mill is the only working watermill in Arkansas, and is powered by an eighteen-foot cypress waterwheel. They mill and sell organic grain, cereal and flour products commercially on site.
resource http://en.wikipedia.org/wiki/War_Eagle_Mill
It is a bit sad that the water wheel can not be seen, but one has to remember it sits on a raging river during the spring, and the fall rains. Without the concrete wall for protection during flood seasons, the wheel would be totally destroyed.