Patrick, NW Arkansas Usa
Canon PowerShot Auto iso 100 using backlighting for bolder colors.
*Special Sale, 30 % off if you buy 16 cards"
THANK YOU so much for all your views, comments, and favorings! VERY Much appreciated, Carolyn.
"Let Your Light Shine Down on Me"
Oh, those good ol' Arkansas dirt roads…
I caught these autumn sunbeams & glow from by low setting sun, illuminating a dusty country road. I used a bit a of adjustment of the hue and saturation to bring out the light rays.
Canon PowerShot S3 IS
Edited with GIMP 2

*Mornings, & Evenings – Sunbeams & Storms,
Country Roads,
JPG Cast Offs,
Shameless Self Promotion,
First Things,
Live, Love, and Dream,
Point & Shooters,
Image Writing,
Beautiful,
Let There Be Light,
Photography Fun,
Art & Collectables,
Country Bumpkin,
Perfect Harmonies,
We Love Wilber..GIMP software users,
FavoritePlaces To Take, Or Paint,
Moody & Evocative,
Scavenger Hunt,
Live & Let Live,
Published in the Weekend Photographer Magazine,
The Best Of Redbubble Art & Photography,
Totally Amateur Photography,
Your Countrys Best,
Sun Rays,
Where On Earth Is This,
New Creations,
Feelin Good,
The World As We See It, also Editors Choice,
Your Magic Place,
Which Way walkways,pathwasy, stairways, roadways,
Hometown Photography,
Falling Leaves,
The Virtual Museum,
Artist Universe,
MANY THANKS TO ALL GROUP HOST!!*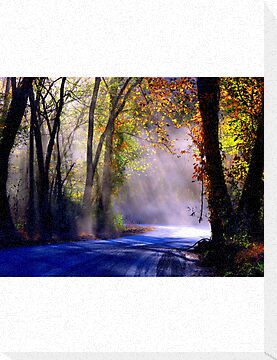 Many thanks to the person ( to whom I do not know, ) who purchased Let Your Light Shine, Down On Me. So happy you like it! THANK YOU SO MUCH!!! HUGZZZZZ May 03, 2011
1 0f 1 in the series of THE ART OF LIGHT…. 1 0f 2 HERE
Dancing In The Spring Light