AS IS Canon PowerShot S3 IS 6mp auto ISO 100
"Autumn Drive on the Pig Trail"
Just east of Elkins Arkansas USA.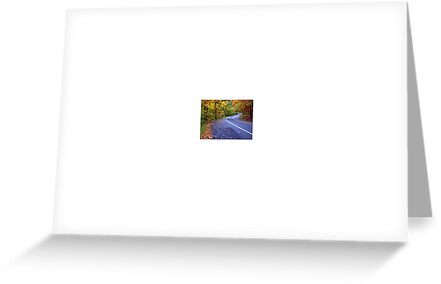 FEATURED IN:
COUNTRY ROADS,
POINT & SHOOTERS,
LIVE & LET LIVE,
CEE'S FUN ARTSY FRIENDS,
THE WORLD AS WE SEE IT,
A PLACE TO CALL HOME,
CANON PHOTOGRAPHY ONLY Aug. 11, 2011,
U.S. Arkansas State Highway 23 S. Better known as the Pig Trail Bypass is one of the most Scenic drives in NW Arkansas.
People come from all over the world to make this drive during the autumn season!!
I love to shoot fall colors right after the rain; the moisture saturates the colors, and makes them POP. I never get in a hurry on this road, its too beautiful.
Many of you have have questions about the pavement color, it is a blue gray asphault that is used here in Akansas, and in shade, or moisture it can look blue, and seems to look even more so with all the fall colors