October 2010 Juried Invitational Exhibition

J D Dicandia Award
Excellence in Acrylic
SoJie 8, October 2010
I am a fine artist and garden designer based in Worcestershire,UK.
I studied Fine Art at Wits University in Johannesburg, South Africa.
I am passionate about my new project to produce a small piece of DAILY ART! They are painted in either oils or acrylics on 30×30 cm canvas boards and are selling all over the world! How amazing to have your work going to South Africa, Australia and Japan! I also undertake commissions for restaurants and private clients.
If you like my work your might like to look at my art blog where I put all my new daily paintings are on my art blog and more of my work can be seen on my main portfolio site
My style is 'contemporary realism' but I still like my realism to have some elements of the brush that produced them visible. After all, it is painting and not photography. Subject mater is either still life or landscapes and, in particular, seascapes which I love painting!
I hope you enjoy my work and I look forward to showing my daily art pieces here.
These paintings (30 × 30 cm) are all for sale, so if you want to own an original please contact me and I can let you know if it is still available.
All images in this gallery are copyrighted © Cat Salter Art. All rights expressly reserved.
Cat Salter Daily Painting Blog
Cat Salter Art Portfolio Site
Cat Salter Redbubble Photo account
Cat Salter Folksy Shop
FEATURED ON REDBUBBLE HOMEPAGE!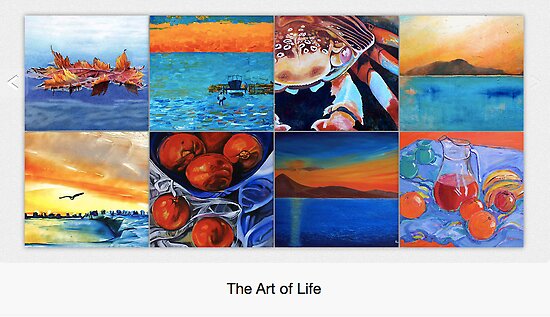 Group Featured Artist in:
British Painters
Impressionism Cafe
Oil Painting Group
Art Up Close
Painters in Modern Times
CHALLENGE WINNERS:
British Painters Group



Oil Painting Group Avatar winner:



Art Up Close:


Cups, Mugs and Saucers: (15 May 2010)


Painters in Modern TImes: (30 May 2010)


Painters in Modern Times: (6 June 2010)


All Things Orange Artwork Gallery: (24 June 2010)


☺♫ Art At Its Best!! ♫☺ (13 July 2010)

Paintings chosen by Redbubble for Featured Art and Photography Page:


Paintings which have come in Top 10 winners:









"Featured work in Redbubble Groups:"